At the heart of your organization are your customers - they fuel your progress and define your success. Although your team consistently supports every customer, ensuring a swift response is key to satisfaction. Let's be honest: it can be challenging to efficiently schedule handoffs, onboarding calls, training sessions, renewal conversations and tech support interactions. With Calendly, this complexity is simplified. We enable your Customer Success teams to effortlessly connect with those who are paramount - your customers. From improving customer engagement, to updating customer data in real time, to empowering your customers when and where they need it, Calendly has you covered.
How has Calendly helped other Customer Success teams?
Vonage saw a 160% increase in customers reached.
Ancestry.com saw a 50% reduction in time from handoff to sales.
ClickUp saw a 57% faster ticket resolution time from customer support.
Conductor saw a 30% increase in customer retention. 
How can Calendly help your team succeed?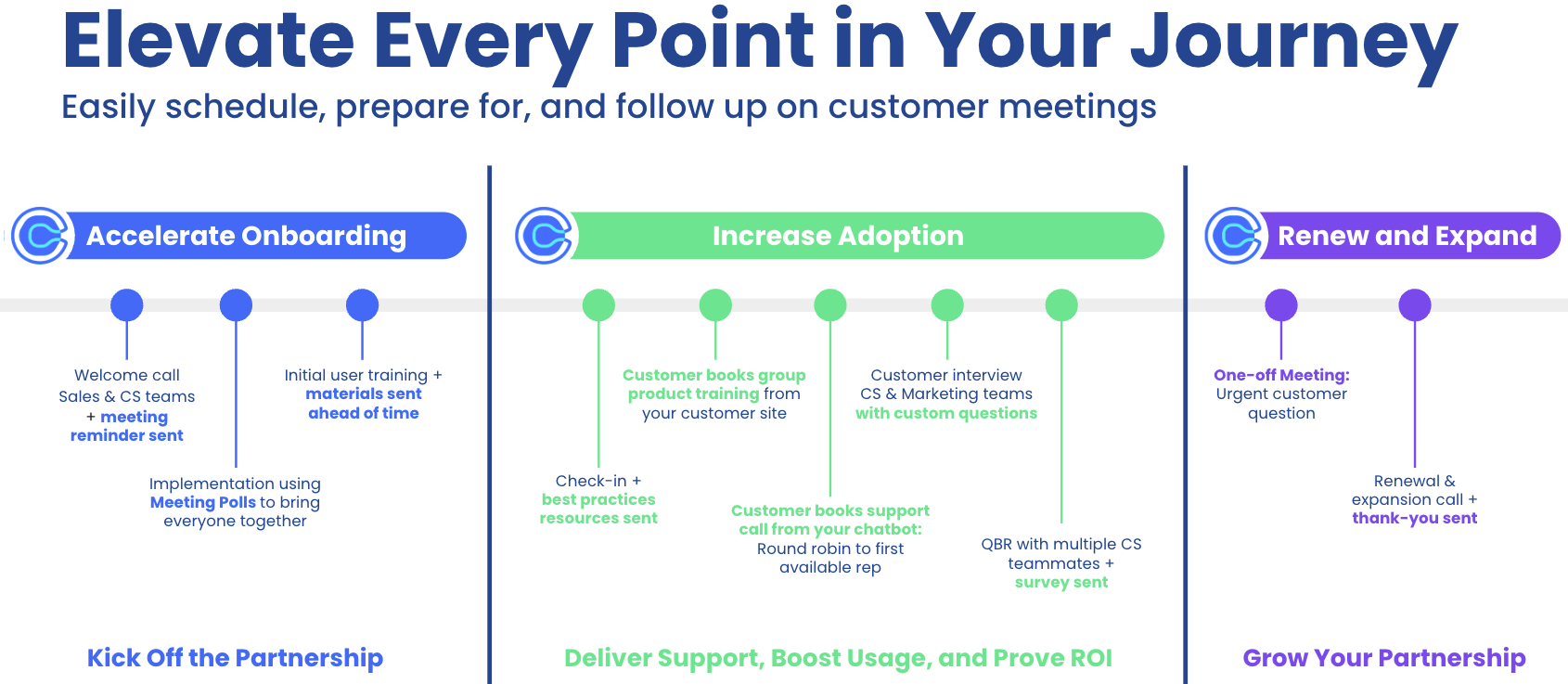 Accelerate Onboarding
Calendly streamlines your interactions, setting the stage for impactful partnerships. Offer personalized welcomes using Workflows, schedule trainings efficiently with Group and Round Robin events, and expedite onboarding.
| | |
| --- | --- |
| Onboarding Process | Resources |
| Welcome: Keep your customers' momentum going post-purchase and connect them to the right Customer Success team as quickly as possible. | |
| Train: Increase user adoption by helping customers quickly implement, learn and start using your product to see value right away! | |
| Follow-Up: Reduce no-shows by providing meeting reminders and essential resources before and after meetings. | |
Increase Adoption
After effective customer onboarding, nurture strong partnerships through consistent engagement. Regular follow-ups and sustained support are key to maintaining their interest and maximizing value.
| | |
| --- | --- |
| Adoption Touch points | Resources |
| Nurture: Cultivate passionate advocates for your product as you engage with customers on significant milestones and expand your reach to a wider customer audience. | Use Calendly while in your workflow |
| Follow-Up: Continue your momentum with engagement through automated pre- and post- meeting workflows. | |
| Support: Provide fast response and resolution times by empowering your customers to schedule meetings directly with your team. | |
Renew and Expand
After effective onboarding and building strong relationships, seize the momentum. Reinforce the value of your services through proactive measures.
| | |
| --- | --- |
| Goals for Renewal & Expansion | Resources |
| Retain: Remove the friction from coordinating business reviews and renewal calls to ensure your team can focus on the most value-driving work. | |
| Partner: Improve customer satisfaction scores by connecting with at-risk customers and promptly address their urgent needs. | |
| Grow: When your customer is ready to grow their investment with you, efficiently coordinate across your Sales, Customer Success, and other stakeholders to remove any friction in the buying intent. | |
Need Support? We've got you covered!
Calendly Standard Support is included in every paid subscription. However, only owners and authorized admins from your company can make certain account requests. You can contact support by logging in to Calendly  and navigate to the Help section at the top right-hand side of the navigation bar. From there, users can:
Select Chat with us and start a conversation with our Support team
Or choose Help Center

and browse our collection of knowledge base articles