The Calendly extension makes impromptu scheduling easy. From your Gmail message window you can:
see and share your scheduling links with invitees

easily add Calendly links as hyperlinks

create a one-off meeting

create a meeting poll

add available times to an email
Before you begin...
Install the extension to your web browser from the Chrome web store or by selecting Account on your Calendly home page to install the extension from Apps page. Once installed, you can add the extension to your toolbar for quick access.
Check out this guide to learn more about installing the extension.
Enable the Gmail integration
To enable the Gmail integration, open the Calendly extension from your web browser. Then, select the Integrations tab.
Locate the Gmail icon, select the toggle and accept the Calendly permissions to enable the Gmail integration. Once enabled, Calendly will be displayed in your Gmail Menu.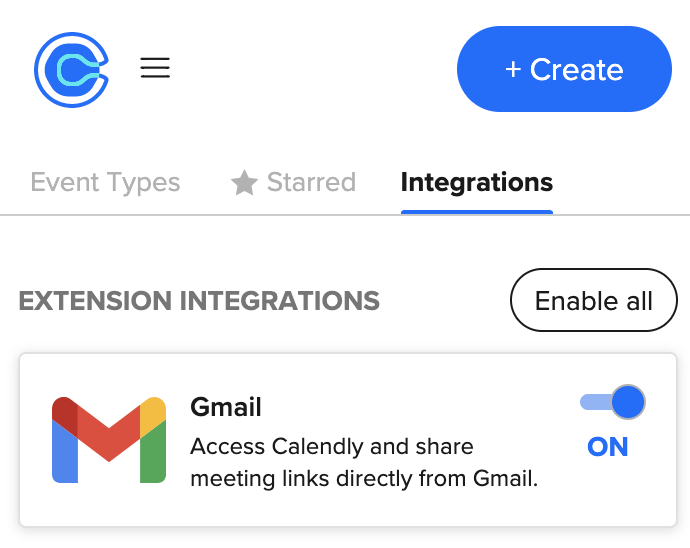 How to share your link
The Calendly icon will appear in your Gmail toolbar when you are composing a Gmail message. To access and share your most recent event types, select the Calendly icon then select Event Types.
Locate the event type you would like to share, and choose one of the link sharing options.
Choose Insert Link to immediately add your Calendly link to to the body of your email. Note: Highlight a word or phrase in your message then select Insert Link to quickly hyperlink text.
Choose Add times to email to select specific dates (up to 3) you want to offer your invitee for this event type. Calendly will only offer the time slots you are available on those specific dates to your invitee when you use this option. Once you have select your desired dates, select Finish and Share and the times you chose will automatically be copied to your clipboard. From there, simply paste the times into a newly composed email.
Additionally, selecting the Calendly icon gives you the option to create a new meeting poll or create a new one-off event. Selecting these options will open Calendly in a new tab and allow you to create your event or meeting poll there. When you are finished, select Copy Link to paste the link into your message.
Disable the Gmail Integration
To remove Calendly from your Gmail Menu follow these steps:
Open the Calendly extension from your web browser and select the Integrations tab.
De-select the Gmail icon to turn off the Gmail integration.
Once disabled, Calendly will no longer be displayed in your Gmail Menu.
Permissions and Privacy
When enabling the Gmail integration for the first time, Calendly will request additional permissions.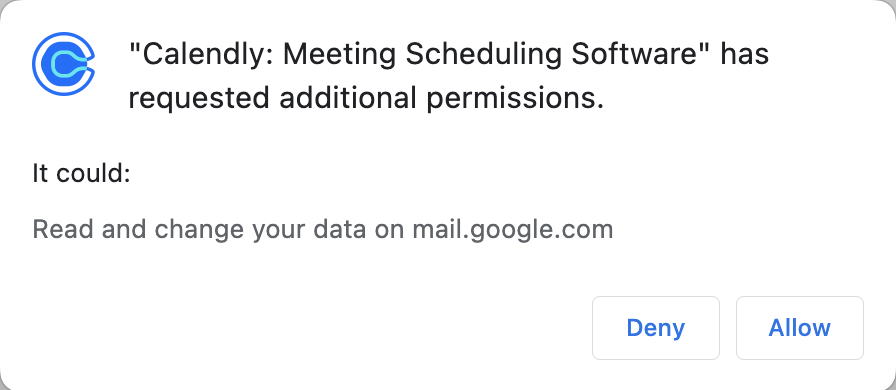 How does Calendly use these permissions?
Calendly utilizes the Gmail permissions to modify the Gmail interface by adding a Calendly button within an iframe. This allows us to display the Calendly icon in your Gmail toolbar.
The Calendly extension also uses these permissions to track error logging and analytics tracking so that we can provide the best experience possible.
For information on Calendly's security and privacy policies, view our Privacy Policy and Security Center.