Is your recruiting team under constant strain? You're not alone. Whether it's sourcing the right candidates, managing multiple interviews, or ensuring a smooth onboarding process, the critical factor remains the same: people! At the core of every successful recruitment strategy are the people — they shape the future of your organization and anchor its values. But nothing can progress in your recruiting cycle if candidates can't connect with the right person at the right time. Not to mention the numerous other tasks you juggle throughout the day. Do you ever feel like managing your work, life, and recruitment targets is an uphill battle?
We understand the challenges, and we have a solution to help!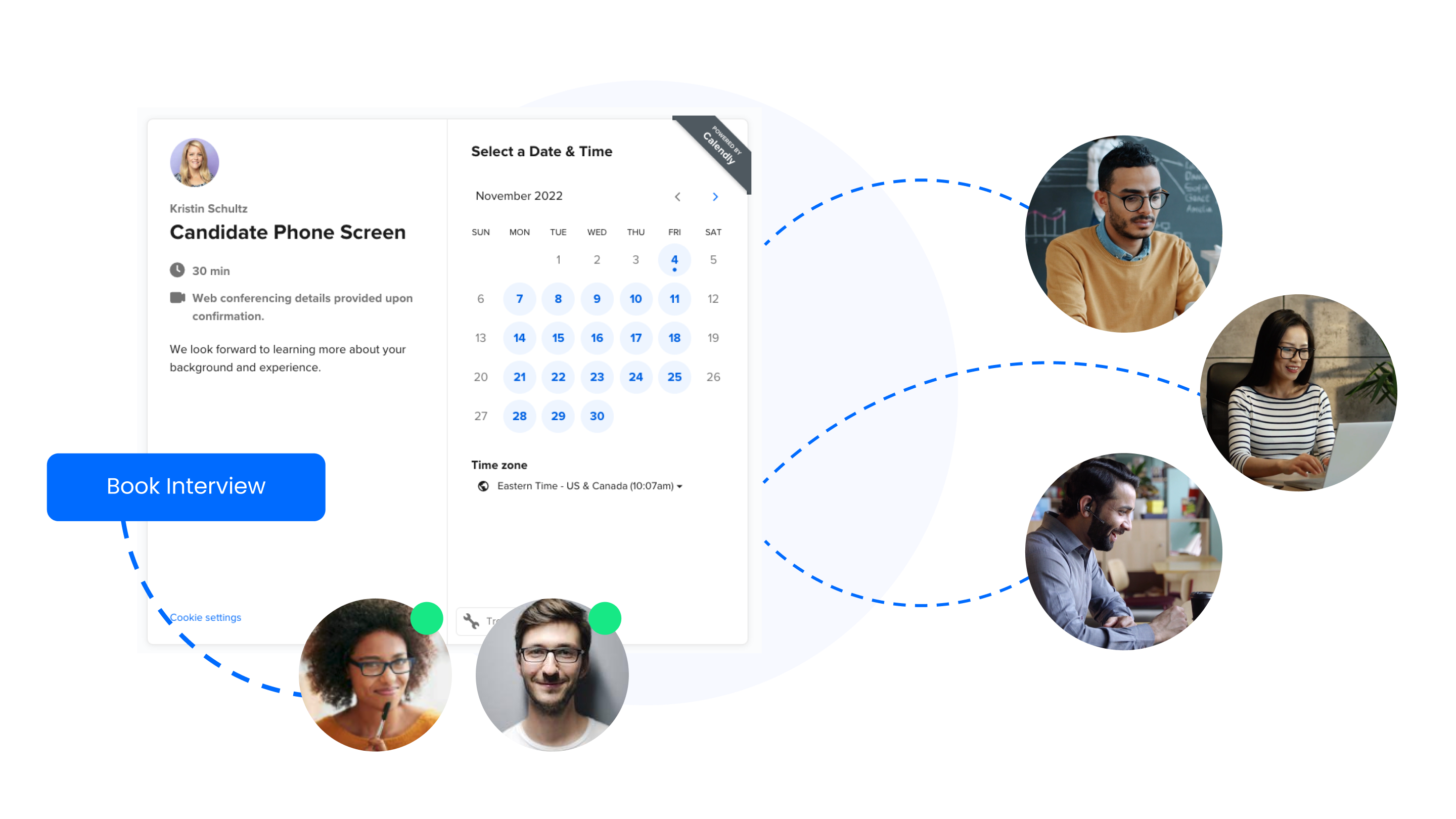 Streamline, automate, and enhance the recruitment process
Speed up your recruiting cycle

Eliminate the tedious back-and-forth of scheduling emails and accelerate your recruiting process, enabling you to fill roles quickly and efficiently.

Elevate the candidate experience

Offer candidates a sophisticated, professional, and self-serve scheduling experience that enhances their journey and leaves a positive, lasting impression.

Integrate your tool stack

Incorporate your existing tools like your ATS (Applicant Tracking System), CRM (Customer Relationship Management), web conferencing tools, and more to provide a unified and efficient recruiting platform with Calendly.

Streamline scheduling

Prevent no-shows and double bookings with automated reminders and follow-ups, maintaining a smooth and dependable scheduling process that benefits both you and your candidates.
Learn from the experts!
Join our How Calendly Uses Calendly to Hire Top Talent Faster webinar to learn how Calendly's recruiting leaders ensure they never lose candidates during email exchanges. Watch as they share the features our teams use to hire top talent faster.
Fill your candidate pipeline faster
Calendly streamlines the initial outreach and screening process, enabling candidates to self-book interviews, therefore saving time and cutting down on back-and-forth email exchanges. This frees you to focus more on meaningful engagement with prospective talents and finding the right person for the job.
| | |
| --- | --- |
| Stage | Resources |
| Outreach: Stay in your workflow while reaching out to potential candidates by sharing your Calendly link via email, LinkedIn Messaging, or the Calendly browser extensions, allowing them to schedule meetings at their convenience. | |
| Screen: Ask candidates to answer specific custom questions when they schedule, helping you gather preliminary information and allowing you to better prepare for interviews. | |
| Qualify and route: Screen, pre-qualify, and automatically route candidates to the most suitable recruiter or hiring manager based on their expertise or availability, reducing manual efforts and accelerating response times. | |
| Notify: Automate notifications to your hiring team in a dedicated Slack channel when interviews are booked via their Calendly link. | |
Accelerate the interview process
With multiple interview rounds involving team members, coordinating times that work for everyone can feel like an uphill task. Scheduling interviews should never be a hurdle in the recruiting process but rather a stepping stone to a productive dialogue with your potential hires.
| | |
| --- | --- |
| Stage | Resources |
| Communicate: Automate and standardize interview messages to reduce no-shows and cancellations, while also sharing resources and sending timely reminders for a seamless experience. | |
| Standardize: Create consistent interview processes by maintaining uniformity across meetings to enhance your brand's professionalism and provide a better candidate experience. | |
| Interview: Tailor interviews at every stage of the recruiting process using different event types to meet your team's distinct needs. | |
| Connect: Automatically share interview video conferencing links to candidates upon scheduling, eliminating manual steps and reducing the potential for miscommunication. | |
Hire top talent
The recruiting process doesn't end once you've selected the perfect candidate, it's also about guiding them efficiently through offer acceptance. By integrating Calendly into your workflow, you can optimize this critical phase by effortlessly coordinating offer discussions, negotiations, reference checks, contract signings, and onboarding. 
| | |
| --- | --- |
| Stage | Resources |
| Post-interview wrap-up: Create workflow reminders for interview follow-up tasks to ensure a complete closure to the interview phase, and prepare for making an offer. | |
| Reference checks: Expedite the candidate reference check process by quickly adding times to an email or sharing your scheduling link. | |
| Offer negotiations: Prioritize candidates and provide a seamless, top-tier experience during the negotiation phase by using one-off events. | |
| Tracking: Integrate your ATS, CRM, and more for automatic updates and centralized viewing of candidate activity, creating a seamless transition from screening to onboarding. | |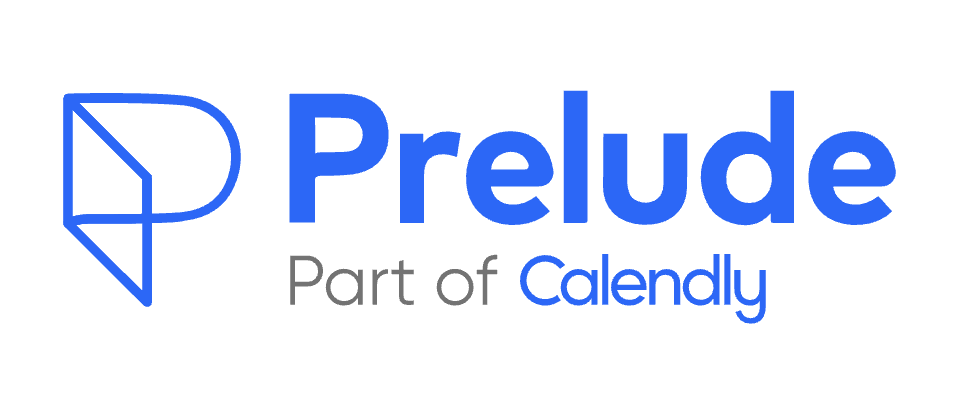 Need more enhanced scheduling capabilities such as Sequential Panel, Multi-Day, or Hiring Events, for a larger recruitment process? Built for recruiting teams with more complex enterprise scheduling and coordination needs, Prelude streamlines interview operations at every stage. Learn more here! 
Complex Interview Scheduling 

1:1, Group, Panel, Sequential, Multi-Day, Hiring Events

Advanced Reporting including time-to-schedule, interviewer participation, and scheduling efficiency
Interviewer Management
Interviewer Training
Candidate Experience Management
Calendar 

G Suite, Office365, Microsoft Outlook Exchange & Microsoft 365 GCC High

ATS 

Greenhouse, iCIMS, Workday, Lever

Conferencing/Chat 

Zoom, Microsoft Teams, Google Meet, WebEx, BlueJeans, Slack

Coding Assessment 

Coderpad, Codility, HackerRank, CodeSignal

OpenID-based Single-Sign-On (SSO)
Need Support? We've got you covered!
Calendly Standard Support is included in every paid subscription. However, only owners and authorized admins from your company can make certain account requests. You can contact support by logging in to Calendly  and navigate to the Help section at the top right-hand side of the navigation bar. From there, users can:
Select Chat with us and start a conversation with our Support team
Or choose Help Center

and browse our collection of knowledge base articles