With a paid Premium or Pro Calendly subscription, you can create shared event types without first creating a team to make collaborating with others in your organization quicker.
To start working with shared event types, you need to add another person to your solo account.
Types of shared events
There are two types of shared events you can create:
Collective events let you host an event with another person and let invitees pick a time when you're all available. Collective events are great for groups who meet regularly with clients and want to make sure everyone is available at the same time, such as decision making meetings or status updates.

Round robin events are 1-to-1 bookings that automatically rotate team members to pair one team member with an invitee based on availability and other specific preferences you can set. Round robin events are great for groups that rotate the responsibility of hosting, such as a sales team meeting with leads.
Where to find your shared event types
Once you create a shared event type, it will appear on your Home page below your individual event types so you can find and reuse them.
Once a shared event type has been booked, you can view it within Scheduled Events.
Shared event types can also be viewed by scoping to a specific user who is a part of the shared event type.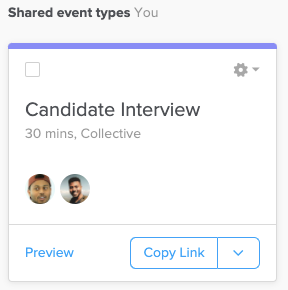 Modifying a
shared even

t type

Once you schedule a shared event, it will show up on your Home page under your Scheduled Events tab. To cancel or reschedule the event, select Details on the right-hand side of the scheduled meeting.

To control how a round robin event is reassigned when an invitee reschedules, you can set a preference within the event type to reschedule by reassigning through round robin, or rescheduling with the original host.

Anyone assigned as a host of a shared event type can edit and modify that event type. Once a round robin shared event has been scheduled, the assigned host is the only one that can modify and edit that scheduled event.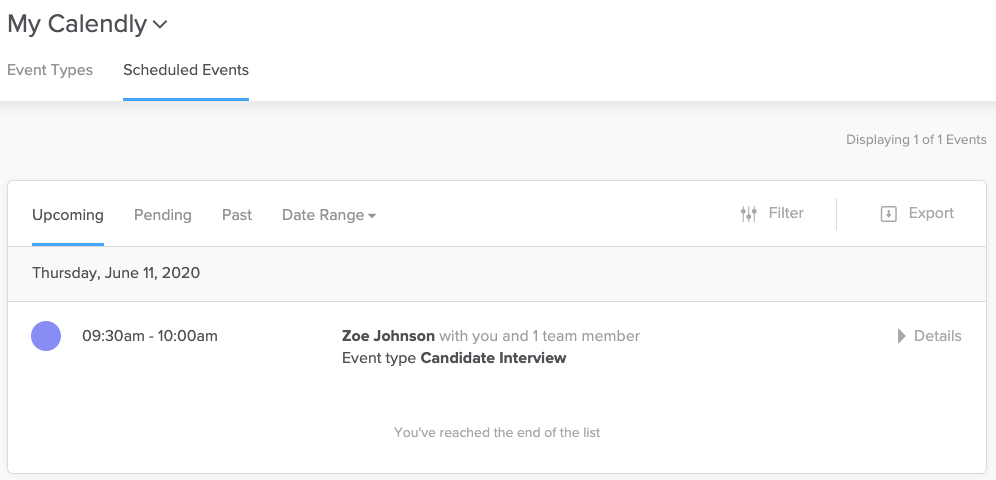 Sharing the link to a shared event type scheduling page
Shared event types do not appear on your landing page. To share your shared event type with invitees, locate the event scheduling page link for the shared event type.
Customizing scheduling pages across your entire organization
Add a logo to your scheduling pages by Customizing your scheduling pages. Upload your logo and select Enforce this display for all users so that everyone on your team has the same logo on their scheduling pages.
The difference between shared event types and team event types
| | | |
| --- | --- | --- |
| | Shared event types | Team event types |
| Best used for... | Quick unrestricted collaboration. | Supervised and standardized event types. |
| Who can create it? | Anyone (unless it is restricted by an organization owner or admin) | Owners, admins, and team managers on the specific team |
| Who can edit it? | Owners, admins, and the hosts of the event type | Owners, admins, and team managers on the specific team |
| Who can add or remove hosts? | Owners, admins, and the hosts of the event type | Owners, admins, and team managers on the specific team |
| Does the event type show up on my personal or team landing page? | No | Only on a team landing page. |
| Is the link customizable? | No | Yes |
| Is the timezone customizable? | No, it will default as the account owner's set time zone | Yes, it is editable from the Edit team page. |
See these procedures:
How to set up a collective shared event
How to set up a round robin shared event
How to edit hosts for shared events
How to manage who can create new shared event types within your organization
How to remove yourself from a shared event type