IN THIS ARTICLE:
Upgrading your account
Calendly's Premium and Pro plans have additional features that allow for greater flexibility and personalization, including access to our library of integrations. To upgrade your account, visit your Billing page from the drop-down menu at the top right corner of your account. When you click Upgrade now, you'll be able to choose the plan that best suits your scheduling needs. Teams will be charged per user, or for each account accepting meetings.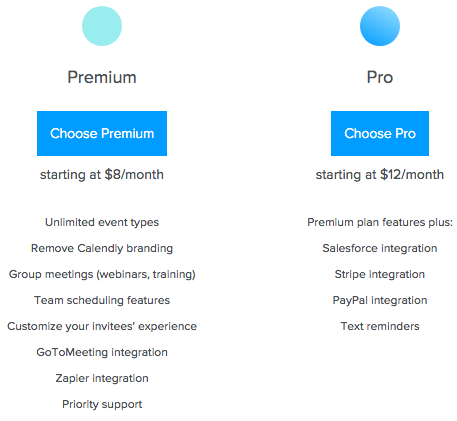 Choose to pay a small fee monthly, or commit to an annual subscription and receive a discount. Calendly subscriptions automatically renew at the end of the billing period each month or year, depending on the payment plan you selected. To prevent your subscription from being renewed automatically, you can preemptively downgrade your account.
Billing options
Paid users can make changes to their subscriptions from their Billing page at any time. From the drop-down menu, you can add or remove users, change your payment information and upgrade or downgrade your account. Premium users updating to the Pro tier will be charged a pro-rated amount for the time left remaining for the billing period.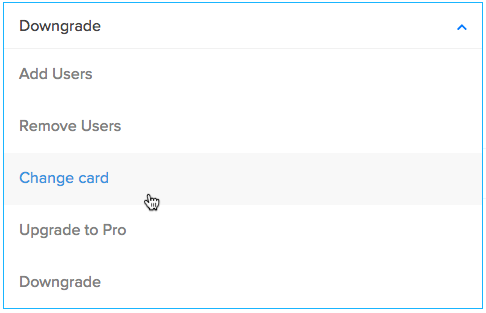 Downgrade or cancel your subscription
To downgrade your account from Pro to Premium, or back to Basic, visit your Billing page. Expand the drop-down menu and choose the Downgrade option to switch to a lower tiered plan.
The change to your subscription will occur at the end of the current billing period, so you'll never lose out on the subscription you've paid for. Once you've downgraded to our Basic subscription, you will no longer be charged moving forward.



For billing inquiries specific to your account, such as invoice requests or refund inquiries, contact our support team.
Delete your account
To cancel your account entirely, visit your Account Settings page. Locate and select the Delete Account button in the bottom-right corner of the page. Once your account has been deleted, you will not be able to recover any of the information stored there.
If you would prefer to remain on our free Basic plan, try downgrading your account instead.