For account cancelation steps, click here.
How to upgrade or downgrade your account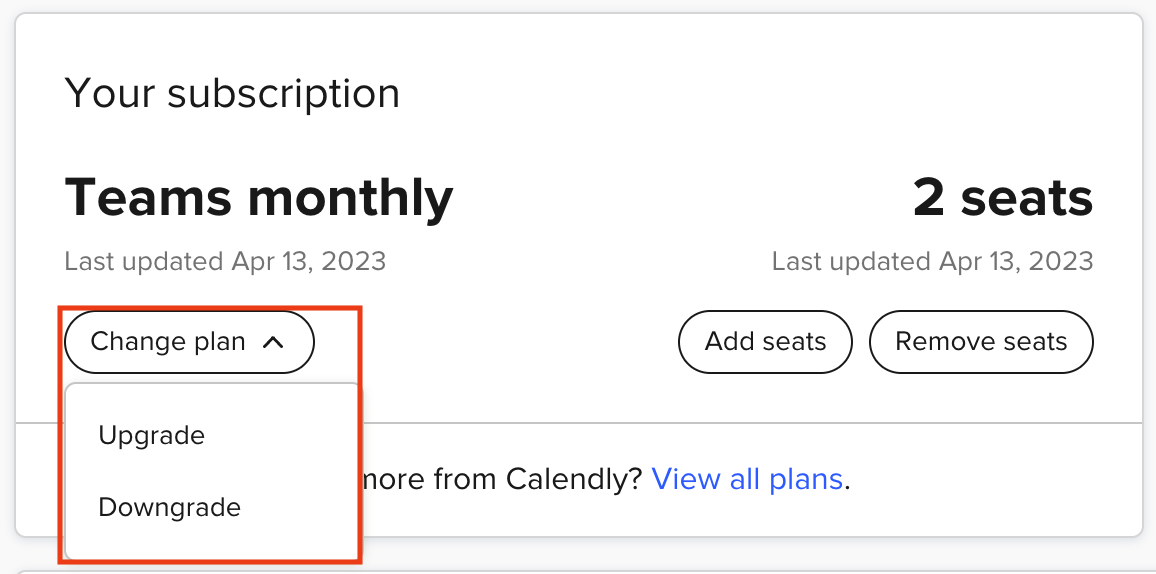 From your billing page:
Select Change plan, then Upgrade/Downgrade.
From here, choose the plan that best suits your scheduling needs.
This will also allow you to move to Calendly's free plan. If you want to delete your account, removing all data from Calendly, see the instructions here.
Downgrades will take affect at the end of the current billing period. This means you will keep your existing plan's features until the downgrade occurs. If you have questions about your subscription, such as invoice requests or refund inquiries, contact our support team.
Should you change your mind, you can undo this action from the billing page.
During the upgrade/downgrading process, you will also be able to add or remove seats and change your billing information.
Adding/removing seats
From your billing page:
To add or remove users from your account:

At Your Subscription, select Add Seats/Remove Seats.

Enter the number of seats you want to adjust. The updated changes to your bill will appear in this window.

Select Add/Remove Seats.

Select Update/Purchase.

Changing your account's billing information
If you are a paying Calendly customer, you can change your credit card information and the number of users on your account at any time.
Note
If you want to add a second billing email address to receive copies of invoices to reach out to billing@calendly.com for assistance.
To change your credit card:

At Make changes to your plan, select Edit payment details.
Enter your new credit card information, then select Update/Purchase. .

To update your billing address:

Navigate to your Billing page.

Under Billing Information, click on Edit billing address.

Enter your billing address.

Select Update/Purchase.

To change your billing cycle:

At Choose billing cycle, select either Monthly or Annually.
Select Update/Purchase.
If you wish to change your subscription plan from annual to monthly, please reach out to our billing team.
Note
If you are updating billing information and currently paying via PayPal, please contact support.