Receiving a meeting through Calendly is as simple as sharing your link. Once invitees arrive on your scheduling page, they'll be able to choose from any of your active event types. From there, they can select the date and time that works best for them.


IN THIS ARTICLE:

Locate your scheduling links
Once you've logged in to your account, locate your scheduling link in the top right corner of your Home page. Click the link to open the drop-down menu and select Share Your Link.
Copy your scheduling link to your clipboard and paste it into a message, or email invitees letting them know how to schedule with you. To embed Calendly on to your website, choose from any of our embed options.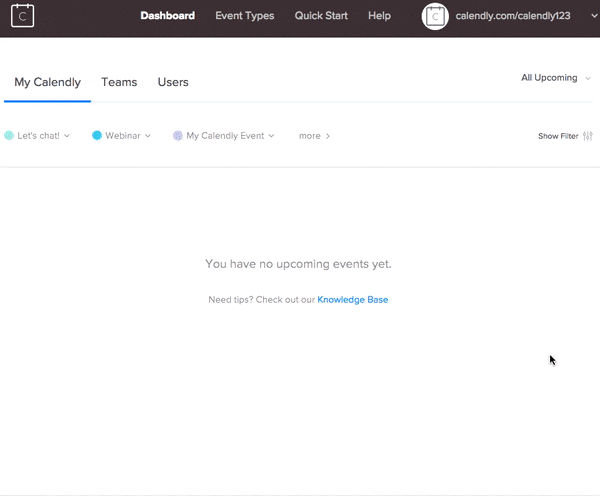 Visit your Event Types page to grab the unique URL for any of your event types. Click Copy Link, then paste it anywhere you'd like.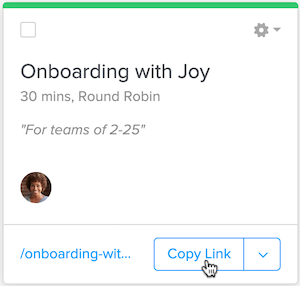 Single-use links
Create a unique one-time URL for any event type using the Single-use Link feature. Once a meeting is scheduled, the link will expire, and invitees will not be able to book another. Your event type URL will never be exposed, preventing any unexpected bookings on your calendar.
From the Event Types page, locate the event type you would like to share. Expand the drop-down menu located to the right of the Copy Link option. Click Create Single-Use Link and the URL will be generated and added to your clipboard for you to paste and share anywhere.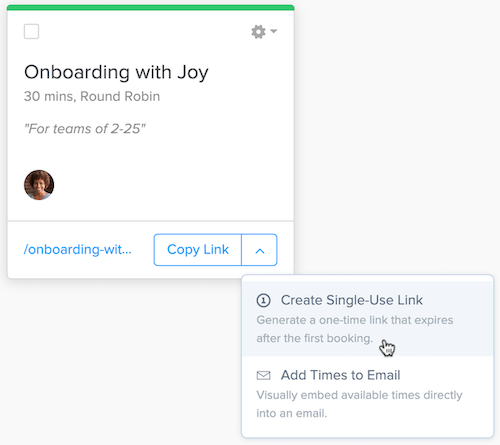 Add times to email
Encourage invitees to schedule with you by emailing them an embedded preview of your availability. On any of your event types, expand the drop-down menu next to the Copy Link button. Click Add Times to Email and select up to three days to suggest. Calendly will detect the first three available time slots on each date and generate an embeddable invitation for you to add to an email. Once you click Finish, the available times will be copied to your clipboard for you to paste directly into an email.



If none of the displayed time slots work for your invitee, they can easily navigate to that event type's scheduling page to view your full availability.
Control who schedules with you
Would you like to make yourself available to anyone in your network? Maximize the number of meetings you receive by adding your scheduling link to your email signature. You can even embed Calendly onto your website to open up your availability to the public.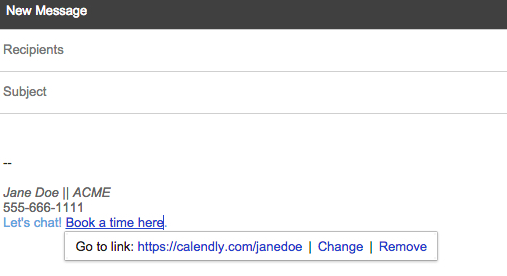 If you prefer your availability to be more exclusive, you can distribute your links as you see fit. Create secret event types to hide them from your main Calendly page. An invitee can only schedule a secret event type if you share its unique link with them directly. Use these templates to show invitees that you value their time:
I would love to connect with you. Want to schedule at calendly.com/YOURLINK so we can avoid the back and forth of finding a time?
Let's skip the back and forth, and connect at the time that's best for your schedule:  calendly.com/YOURLINK
I'm free this afternoon. If you need more notice, choose the time that's best for you at calendly.com/YOURLINK and I'll be happy to connect then.

Our Calendly for Chrome extension or Calendly Click can make scheduling even smoother. Using these tools, you'll always have easy access to your links for sharing.