What's the most effective way to share my link?
Get your first meeting
Receiving a meeting through Calendly is as simple as sharing your link. 
Each of your event types also has its own link, so you can share just one event type with an invitee based on their needs. For example, you could share a "30-minute Consultation" with a prospect and a "1-hour Deep Dive" with an existing client. Just copy the right link and paste it into a courteous email: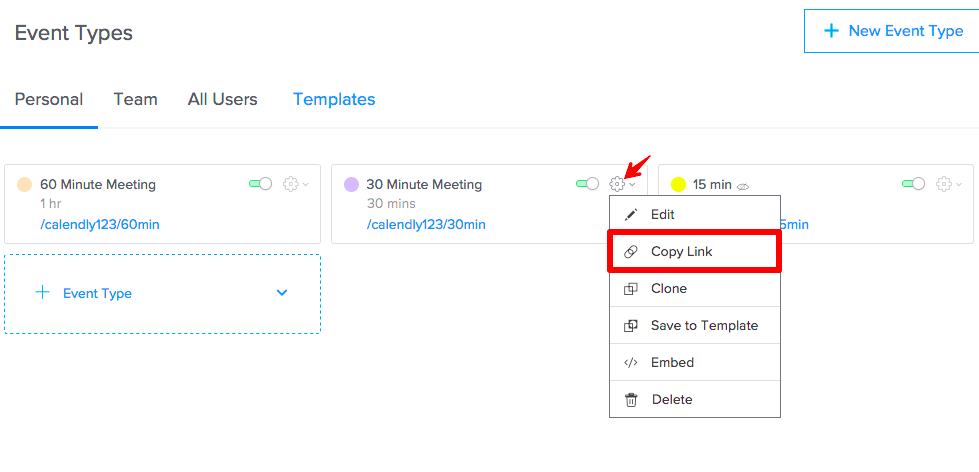 Pro Tip: Use Calendly Click to make scheduling even easier. With the app installed on your computer, you'll always have your Calendly links at your fingertips - making it easy to copy and paste into emails and share with invitees. 
Use one of the templates below to show invitees you value their time:
 Would love to connect with you. Want to schedule at  calendly.com/mylink (replace with your link) so we can avoid the back and forth of finding a time?
 Let's skip the back and forth, and connect at the time that's best for your schedule:  calendly.com/mylink (replace with your link)."
 I'm free at  (time you're available today), but if you need more advance notice, name the time that's best for you at  calendly.com/mylink (replace with your link) and I'm happy to connect then.
Control who meets with you
Depending on your scenario, you may want to make yourself freely available for new meetings, or be more exclusive.
To maximize the number of meetings you receive, add your link to your email signature, or even  embed Calendly on your website.
To be more selective about who can schedule with you, make some event types "secret" to hide them from your main Calendly page. An invitee can only see and schedule a secret event type if you share its direct link with them.
Want to learn more and use Calendly like a pro? Click here to learn how others with use cases like yours get the most out of their accounts.