This article will show how profiles can help get your team started wtih Calendly. Using Calendly as a team opens up powerful scheduling features. In order to take advantage of those features, it is important to make sure users are set up for success Calendly. To help with this, you can use profiles!
Profiles will help admins, owners, and group admins:
Double check that new hires have the correct group assignment and permissions.

Identify if teammates need help connecting their calendar or web conferencing apps. 

Monitor new hire behavior with quick links to their analytics dashboard and events.
Having this information readily available can speed up your onboarding and user management tasks!
A user profile is accessible from across the Calendly website. When you click on a user's profile picture…
…a pop-up will appear with that user's profile. Besides basic information like a user's availability, the profile will also have links to that users' created event types, scheduled events, and analytics.
Where to access a profile
To open a user's profile, click on the profile picture of the user you want to view.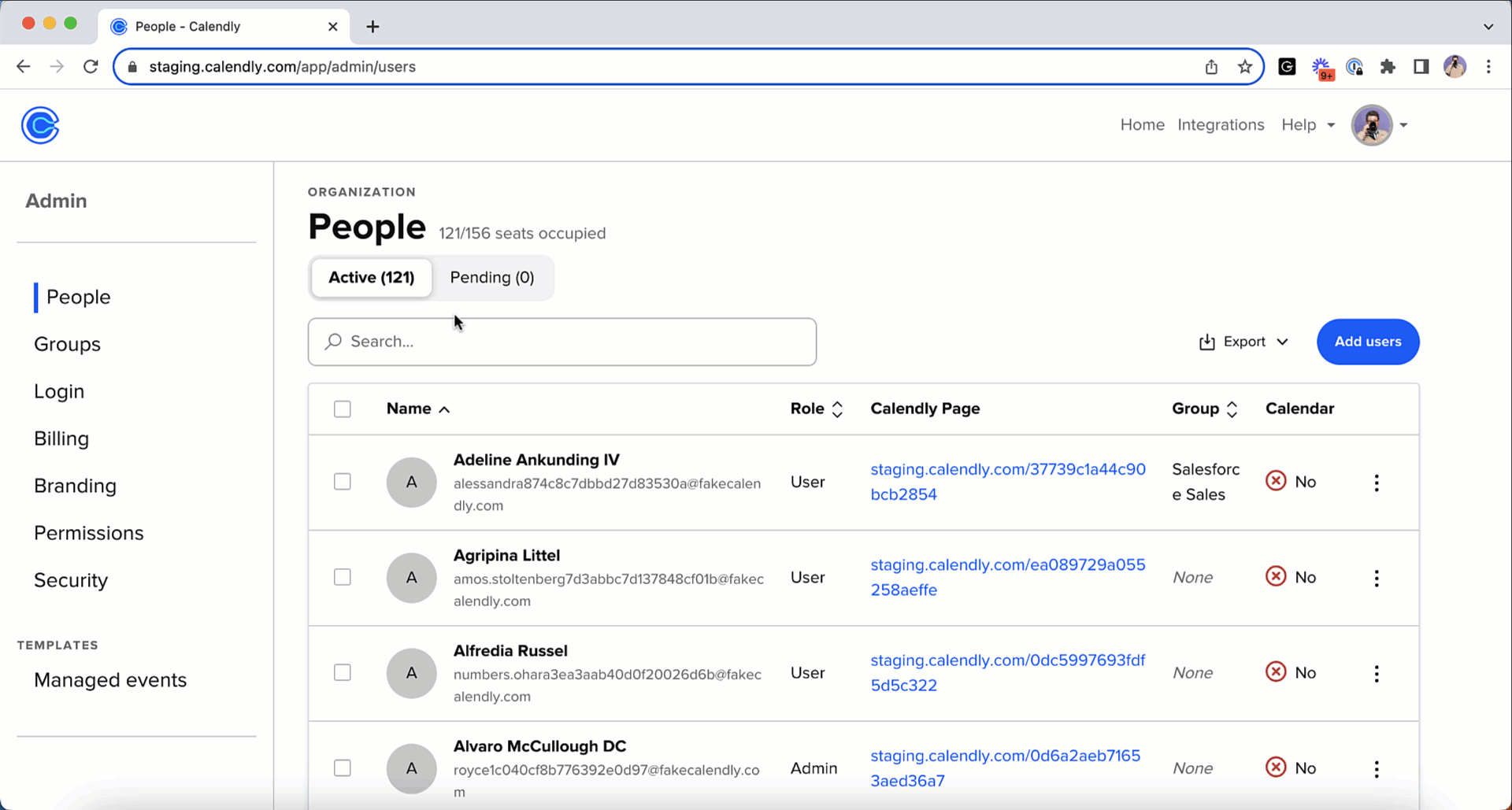 You can do this on most Calendly pages, as long as the picture is not inside an existing widget (for example, an event type box).
Who can view Calendly profiles
If your role in Calendly is an owner, admin, or group admin, you can view any user inside of Calendly. The exception is if you are a group admin, you can only view users inside of your group.
Any user can click their own picture to see their profile.
Information included in a profile
Information included in a profile
User profile picture

User name

User role

User's Calendly link

User's email address

User's assigned groups (if any)

Quick links to:

User's event types

User's scheduled events

User's analytics

Integrations

User's connected calendar

User's video conferencing

User's default hours
If a user does not have an integration connected, it will appear with a caution icon next to the integration, as shown below.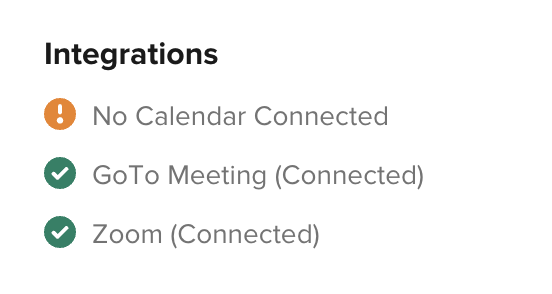 Viewing groups inside of a profile
When viewing a user's profile, you have the ability to edit a user's group. If they are not part of a group, the add group button will be visible. If the user is already part of a group, there will be a pencil icon next to the group name.
Clicking either of these buttons will give you the ability to add the user to an existing group, or create a new group with the user included. Click Add to group to complete the action and return to the profile page.
If the user is already in a group, they are removed from the existing group and put into the new one.
Note: If you are looking at an end-user who happens to be a group admin, you will see multiple groups displayed: ones they are a group admin for, and any group they are in as a user.
This action occurs inside the user profile page, but you can click the Back button to return to the profile overview.