In this article we will walk you through your Calendly account settings and the changes that can be made within them.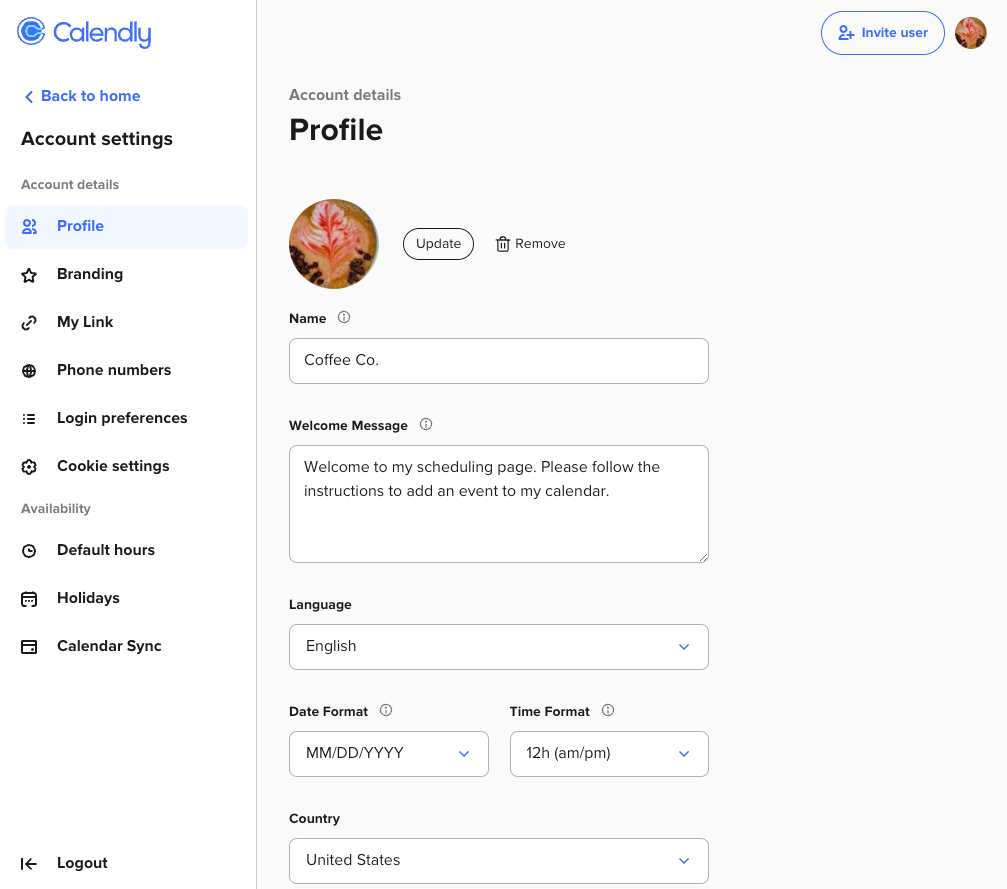 Before you start
Where to edit your account settings
To open your account settings:
Select the photo/icon in the upper right hand corner of your homepage.
Select Profile.
Account settings sections
Your account settings are used to manage your personal account preferences within Calendly. These settings include:
1. Profile
This section of account settings is where you can change the following:
Account photo/icon


Upload a photo for your Calendly account.




Name

Assign the name that you would like to appear on your Calendly page and email notifications.




Welcome Message

Add a welcome message for your Calendly page.




Account Language


Assign a desired language for your Calendly account from our language options.


English
French
Spanish
German
Portuguese (Brazil)

NOTE: This language is for your Calendly account view only. This language will not be applied to your event types.



Date Format

Select your preferred date format.

MM/DD/YYYY
DD/MM/YYYY




Time Format

Select your desired time format.

12 hr (am/pm)
24 hr




Country

Select your Country.




Time zone

Select your account timezone.

2. Branding
This section of account settings is where you can add a logo for your Calendly account. Here you can edit:
Account logo

Add a logo to all of your personal Calendly scheduling pages.




Calendly branding settings

Edit Calendly personal branding settings on your account.



3. My link
In this section of your event editor you can adjust how your scheduling link availability appears. Here you can edit:
Calendly URL

Create your Calendly URL.

4. Phone numbers
This section of your account settings is where you can assign which phone number(s) you want to be used for your event 'host" workflows. Here you can edit:
Phone numbers for SMS Workflows 

Add the phone number(s) you would like to be used in any text to host workflows you create. NOTE: SMS Workflows are only available on paid plans.

5. Login preferences
This section of your account settings is where you can make changes to your Calendly login method and email address. Here you can edit the following settings:
Login preferences

Determine how you login to your Calendly account and which email you use.  


Once you have these sections above customized, your Calendly account settings have been completed!
Account level availability
Default hours 
Default hours are a simplified way to set availability for all event types at the account level. When you signed up for Calendly, you specified weekly days and hours you're typically available. Calendly uses that availability, in addition to "busy" events on your connected calendar, to determine when you're available or unavailable to host meetings.

You can specify your Default hours to indicate specific weekdays and hourly increments you are looking to schedule meetings.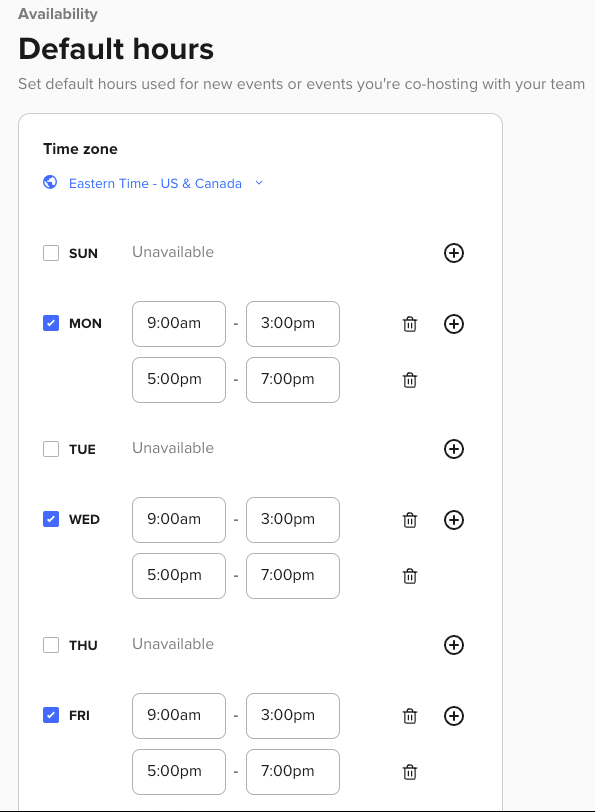 If you are wanting to create a more customized availability schedule you also have the option to create date specific hours within your event types.
Holidays
Customize the holidays you observe by modifying the default list, ensuring accurate availability and maintaining a healthy balance.

1. Choose one of 10 default countries whose holidays you want to be recognized within your account. Our default countries include:

- Australia
- Brazil
- Canada
- France
- Germany
- Mexico
- Netherlands
- Spain
- United Kingdom
- United States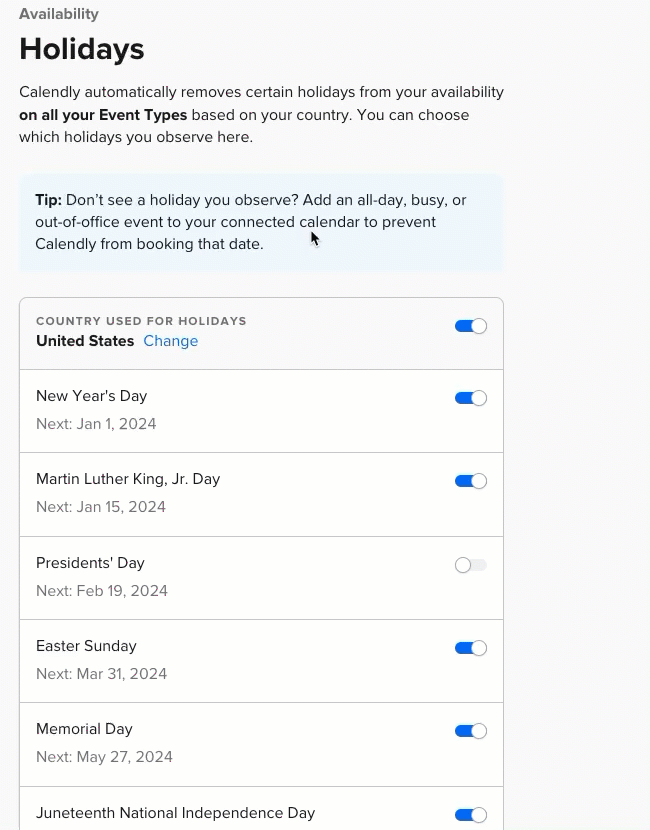 2. Use the On/Off toggle to dictate which holidays you would like to be unavailable/available for.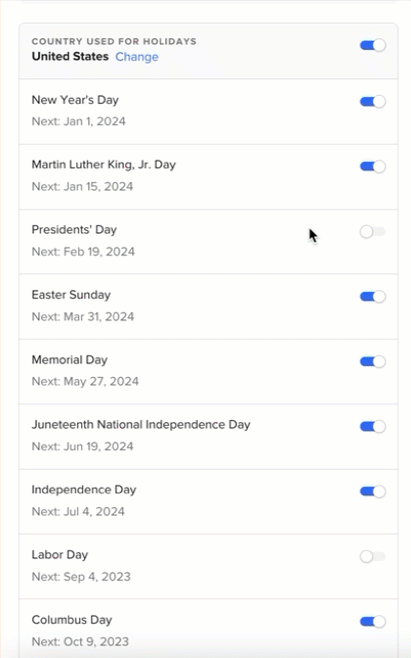 Toggle On

will mark you as unavailable for scheduling on this holiday.
Toggle Off

will mark you as available for scheduling on this holiday.

3. If there is a holiday you observe that is not within your holidays tab, we recommend adding an all-day busy event to your connected calendar.  

Calendar sync (Calendar connections)
By connecting your personal calendars within Calendly, you can ensure that no Calendly event schedules over a busy event within your personal calendar. Connecting your personal calendar will also allow you push your Calendly scheduled events into your calendar. 
1.
Select which type of calendar you are looking to connect to your
Calendar Sync page
. Calendly integrates with the following platforms:
2. Once connected, select the calendars you want Calendly to check for conflicts and assign which calendar you would like to push your Calendly schedule events to.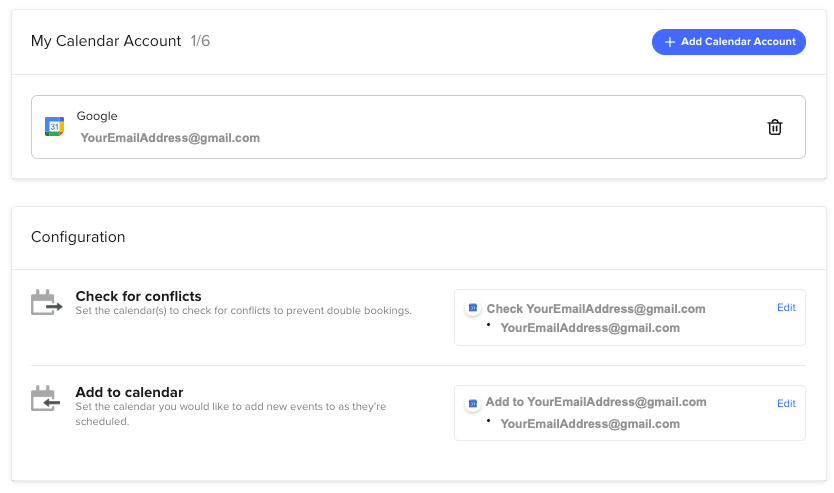 (NOTE: Calendly scheduled events will only push to one connected calendar at a time.)