What is a group event type?
A group event type is a one-to-many event type—one Calendly host to many invitees. Group events are helpful when you want multiple invitees to attend an event at once, such as:
Webinars
Training sessions
Museum tours
Invitee slots
For your group event type, you can choose the number of invitees you'd like to have at each event.
For example, if you set the maximum number of invitee spots to 10, then up to 10 invitees can book a single time slot. This means that 10 invitees could book a webinar at 1 p.m.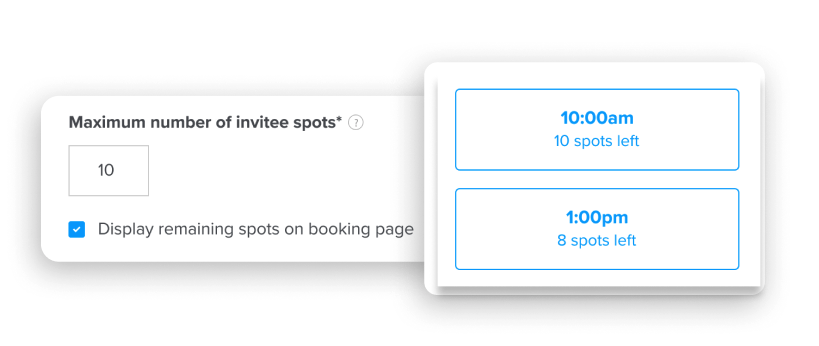 You can also display how many spots are left on your booking page, so invitees know if an event is almost full. If you check this setting, your page will show the number of spots left per time slot, which will update in real-time as spots are filled.
Adjusting invitee spots for scheduled events
How to set the max invitees in a spot:
Select the group event type you'd like to edit.
Expand the section What event is this?
Scroll down until you see Max invitees in a spot.
Enter the maximum number of invitees per event.

You must select at least two invitee spots. You cannot set the invitee limit to a single invitee.
You can have a maximum of 9,999 invitees per slot.

Optional: Choose to Display remaining spots on booking page.
Select Save & Close.
How to update the invitee limit on a scheduled event:
Navigate to your Scheduled Events tab.
Scroll down and select the scheduled event you'd like to adjust.
Select Edit Invitee Limit.
From the pop-up, adjust your invitee limit.
Select Apply to apply the new invitee limit to your scheduled event.
Email confirmations
Group event types support email confirmations, and do not support calendar invitations.
Since calendar invitations list the emails of everyone attending an event, your group event will default to email confirmations to protect the privacy of all invitees in a meeting.
Your invitees won't be able to see each other's contact information, but they can add the event to their own calendar, as shown in the email confirmation below:
Workflows and group event types
While workflows are compatible with group event types, currently, users are unable to use the event scheduled or event cancelled workflow triggers with group event types. This includes initial, or subsequent events, as well as events cancelled or scheduled by a host or invitee.
Making changes to language and duration
Once someone books a group event, the language and duration of the event locks, and you won't be able to edit it. You'll notice that the duration and language are grayed out:
If you need to change the language or duration, you can clone your group event type, cancel the scheduled event, and reschedule from your new event's live scheduling page. These steps are outlined below.
How to cancel and reschedule a group event:
Navigate to your Home page.
Select the gear in the top right of your group event type.
Select Clone.

Make whatever changes to language or duration that you'd like to make.
Navigate to your Scheduled Events tab.
Scroll down and expand the scheduled event you'd like to change.
Select Cancel.

Navigate back to your Home page, select your new group event type, and select View live page.
From your booking page, fill in each invitee's information to reschedule on behalf of them.