If you know your invitee's information, you can customize your Calendly link to pre-populate their name, email and more on your scheduling page. Save your invitee time and give them a more personalized experience with a scheduling link customized for them.


IN THIS ARTICLE:
Pre-populate invitee's name and email
Calendly requires each of your invitees to enter their name and email before confirming an event. If you would like to have this information filled in automatically, you can define dynamic parameters within the URL you share with that invitee.
If your invitee's name is John Doe and their email is johndoe@johndoe.com, for example, you can add the following to the end of your scheduling link: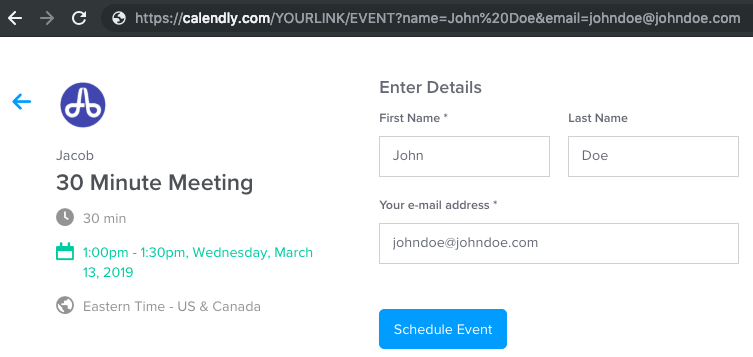 Pre-populate invitee answers
If you've added custom questions to your event type, you may want to pre-populate the answers for your invitee. Each additional answer will be numbered in order as a1, a2, a3 and a4. To autofill responses for these custom questions, add the following to your scheduling link depending on the answer type you've selected:


| | | |
| --- | --- | --- |
| One or multiple lines of text | Add the text you would like to appear, using %20 in place of spaces | ?a1=Scheduling%20sales%20calls |
| Radio button | Add the number of the bullet you would like to be selected | ?a2=2 |
| Checkbox | Add the numbers of the checkboxes you would like selected, separated by commas | ?a3=2,3 |
| Phone number | Add the phone number, including the country code | ?a4=14045555555 |

You can pre-populate multiple responses by combining the answer information and adding it to the URL you're sharing. Simply add an ampersand between each separate answer. Based on the above examples, your customized link would be: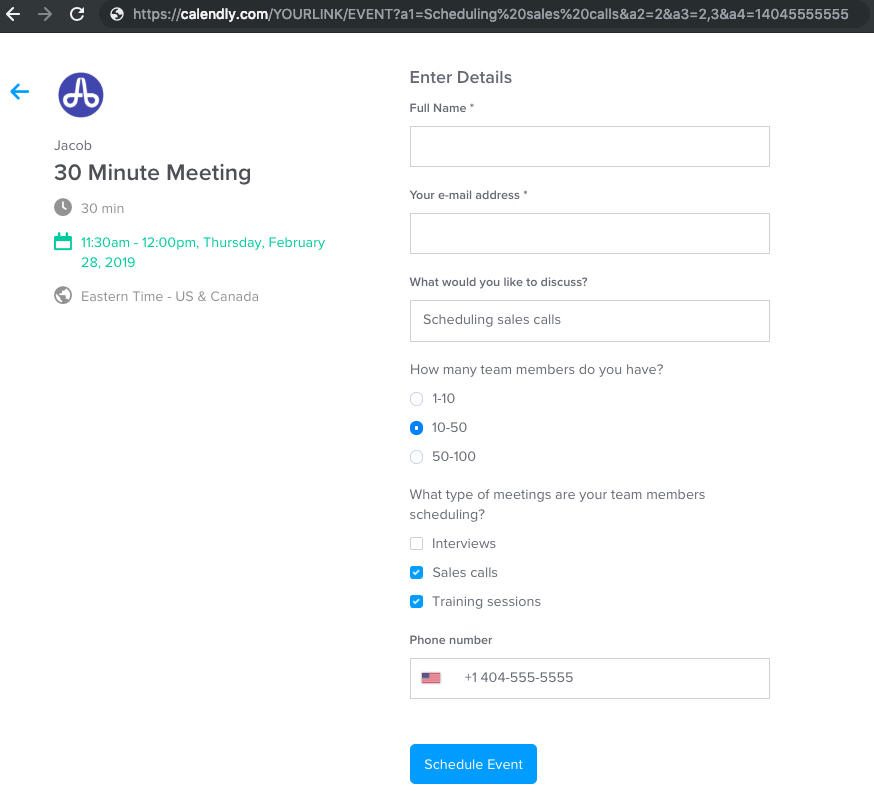 Using dynamic fields to pass invitee information
To gather more information from your invitees, create a web form on your website that will lead to Calendly upon completion. You can pass responses gathered from the form to Calendly to include them in all of your event notifications.
These steps will vary based on the platform you've used to build your form. We've used the Wordpress Gravity Forms plug-in here.

1. From your Wordpress Admin page, select the Forms section and choose Settings > Confirmations

2. Click Add New to change the behavior that will occur after an invitee fills out your form



3. Set the Confirmation Type to Redirect, then check the box to Pass Field Data Via Query String. From the "Optional form fields" drop-down menu, add Name (First), Name (Last), and email.

To build your Redirect URL, add the following parameters to your Calendly link:
Build a dynamic Calendly link and add the URL to your form's confirmation button to redirect to your scheduling page. From there, the field data in the query string will pull info from the previous form into Calendly.

To pass this data into your CRM, you'll want to use Webhooks.