Calendly's Salesforce integration can automatically create or update Salesforce records as meetings are scheduled so your sales team can move even faster. As Calendly meetings are created or canceled, you'll be able to:
Automatically create or update leads, contacts and opportunities
Automatically create events or tasks on any standard SFDC object
View upcoming Calendly events from your record's open activities
Track canceled and rescheduled events for individual invitees
Easily report on activity sourced by Calendly
Before you begin
To integrate Calendly with Salesforce you will need a:
Calendly Pro account with admin or owner privileges
Salesforce Enterprise or higher edition with admin privileges
IN THIS ARTICLE:
Installation
Visit your Integrations page and select Salesforce. Follow the prompt to Go to setup and authenticate your Salesforce account. The account you use must be assigned a profile that has permission to Author Apex and Modify All Data. Have your Salesforce System Administrator authenticate the integration, as these permissions are inherent to their profile.
After authenticating an admin account, return to your Integrations page to install the Calendly package for all of your users. Keep in mind, the email address for each user in Salesforce must match the email address they use to log into their Calendly account. Once the installation is complete, refresh your Integrations page to complete the connection between Calendly and Salesforce.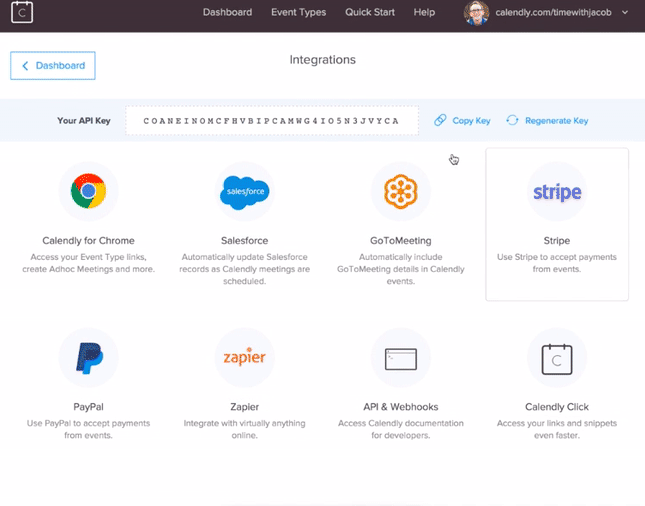 If an error is displayed, you may be using the Group or Professional edition of Salesforce. Your Salesforce edition must be Enterprise or higher to have the capability for integration via web service API.
Out-of-the-box behavior
When an event is scheduled through Calendly, the invitee's email will be searched for within Salesforce. If there is no matching record, a new lead will be created.
If a record for the invitee is found, an event will be added to either the lead or contact associated with their email address.
When a meeting is canceled, the event will be updated and the word Canceled will display below the Open Activities in Salesforce.
When a new lead is created from a Calendly event, the owner of this record will belong to the assigned Calendly user.
When a new Calendly event is created in Salesforce, the owner of this record will also belong to the assigned Calendly user.
The CalendlyCreated attribute will be attached to events and created leads. View these records by running an activity report in Salesforce.

Update a field with answers from custom questions
Customize the flows installed with the Calendly package to pull invitee information gathered during booking into their record in Salesforce. Open the Create Event flow, select the CreateRecord: Create New Lead step and map the custom response from your booking flow to the correct fields.