In this article, we will walk you through how to create and book a Calendly meeting poll.
Step 1: Choose times to offer
Navigate to your Home page in Calendly, or open your Calendly extension.
Select +Create, then select Meeting Poll.

Under Time Zone, select the time zone you'd like to use while selecting times. 

Note: Changing the time zone will only affect the times that you see on this page. When voting, your poll participants will automatically see the offered times in their time zones.
Under Duration, select the duration of your meeting.

Under Host, add any additional hosts from your organization.

Hover over the calendar to select the times you'd like participants to vote on. On average, people tend to offer 12 times, but you can select up to 40 times. You can offer times however you like, including times that overlap.  

Note: If you'd like to remove a time you've selected, select the x/40 times selected option below the calendar. Select x next to the unwanted time, or select Clear all to remove all selected times.

Once you have selected your times, select Next.
Step 2: Set up meeting details
Under Meeting Details, set the Meeting name and Meeting location.

If you'd like your participants to see additional meeting information as they vote, select Add descriptions/instructions, and enter a meeting agenda. 
Under Optional Settings, choose if you'd like to reserve times or not. If you toggle on reserve times, Calendly will place temporary meeting holds on your calendar for all your offered times. In addition, you can choose whether you'd like to offer vote visibility, which allows poll participants to see each other's names and votes while selecting a time. Here you can also outline what language you would like to be used for your meeting poll.

Select Share meeting poll.
If you need to edit the poll details, including location and available times, you can do so by clicking on Scheduled events, then Pending. From here, just select your poll's details and click Edit.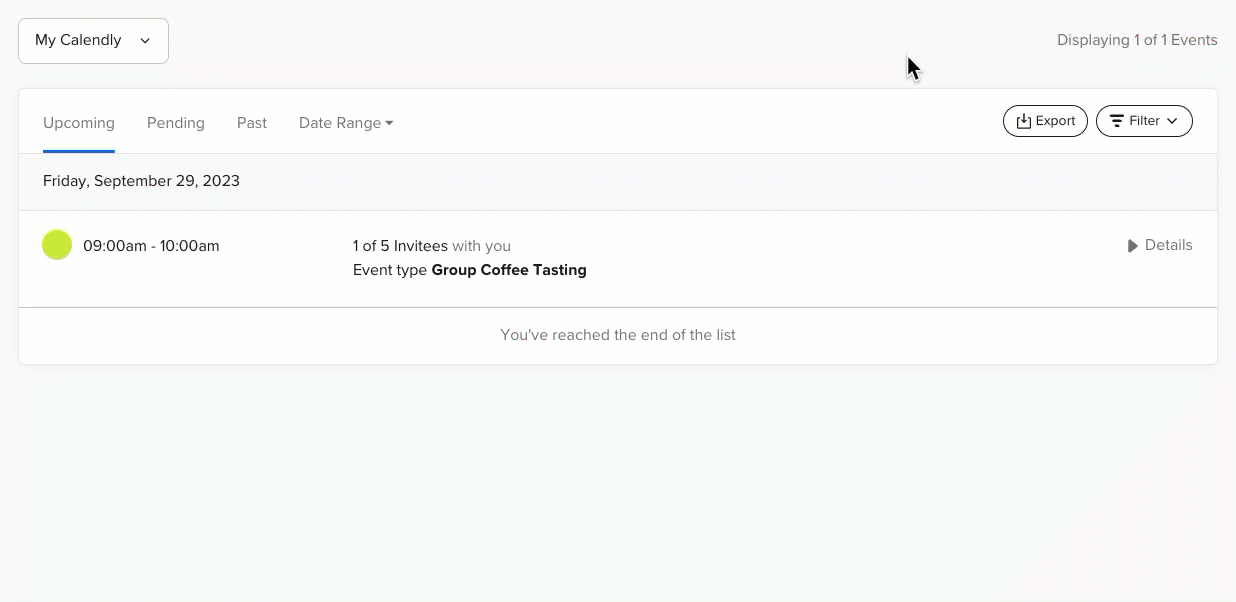 Note
The reserved times will be removed once the event is scheduled or the pending event is deleted. However the removal may take several minutes to process after the action is taken in the Calendly application.
Step 3: Share your meeting poll link
Calendly will generate a meeting poll link for you to share.
If you'd like to edit the link ending, select the text in the box and input new text.

If you'd like to see what the offered times will look like to invitees, select View live page.   
When complete, select Copy link.
Paste your link in a message, and send it to your meeting invitees. Your invitees will see a page that looks something like this:

Step 4: Book a time
Once participants have voted in your poll, you can decide on the preferred time to schedule the meeting.
In your Calendly account, go to your Scheduled events page.
Select the Pending tab.
Find your preferred time to have the meeting, and select Book meeting time.
Confirm the invitee list looks correct, and then select Book meeting.
After you book
You and your invitees will receive a calendar invitation with the meeting details and location.