Use round robin events to increase your team's flexibility by allowing invitees to choose a time with any available member of your team. These events are perfect for:
Connecting leads with sales reps for intro calls and demos
Connecting new customers with the client services team for onboarding and training
Connecting existing customers with a member of the support team
Connecting candidates with recruiters for phone screenings
Setting up a round robin event type
First, complete the steps to setting up a team. Creating a round robin event type is very similar to creating a solo event, with a few additional steps. Visit the All Teams view and locate your desired team. Click + New Event Type next to the team you prefer and select Round Robin as the style of the event type. From there, set the availability and select your preferred meeting distribution option.



Once an event is scheduled, both the invitee and the assigned team member will receive a confirmation notification informing them of who they are meeting with.
Note
To include a team member in your round robin event, they will need to be a member of your Calendly organization. For more information on adding team members to an account, check out this article.
Specify when your team members are available
To set your hosts' availability for a round robin event type, follow the How to set host availability for multi-person scheduling procedure.
If you're using the same availability for another round robin event type within your team, you can save time by selecting Copy availability from... within the Scheduling settings section of your event type. Select the event type you'd like to copy availability from, and it will automatically populate.
Maximize availability
When invitees schedule an event set to maximize availability, they will see the pooled availability of all the assigned team members. If any one team member is available, the corresponding time slot will be offered.
When more than one person is available for a particular time, Calendly assigns the meeting to the team member with the highest priority. You can set individuals' priority by filling in the stars next to their names while editing the event type. If team members have equal priority, the meeting will be assigned to the person who has been scheduled least recently for this event type.


Optimize for equal distribution
To have events assigned to team members evenly, optimize for equal distribution. Calendly will monitor how many events are distributed to each individual. If someone has been assigned too many meetings of this type, their availability will be hidden from the scheduling page until others catch up.
When optimizing for equal distribution, some time slots may not be offered if the only available team members have received too many meetings. Using Admin Mode, you can see time slots that have been removed from the scheduling page due to unequal distribution.



Calendly will compare the number of meetings assigned to each person in the mutual time they have been assigned to the event type.
Reassign events to different team members
Reassign another team member to a round robin event by rescheduling it from the Scheduled Events tab on your Home page. Find the event and click Reschedule, then Choose team member. Select a new team member from the list and pick the same date and time of the original event.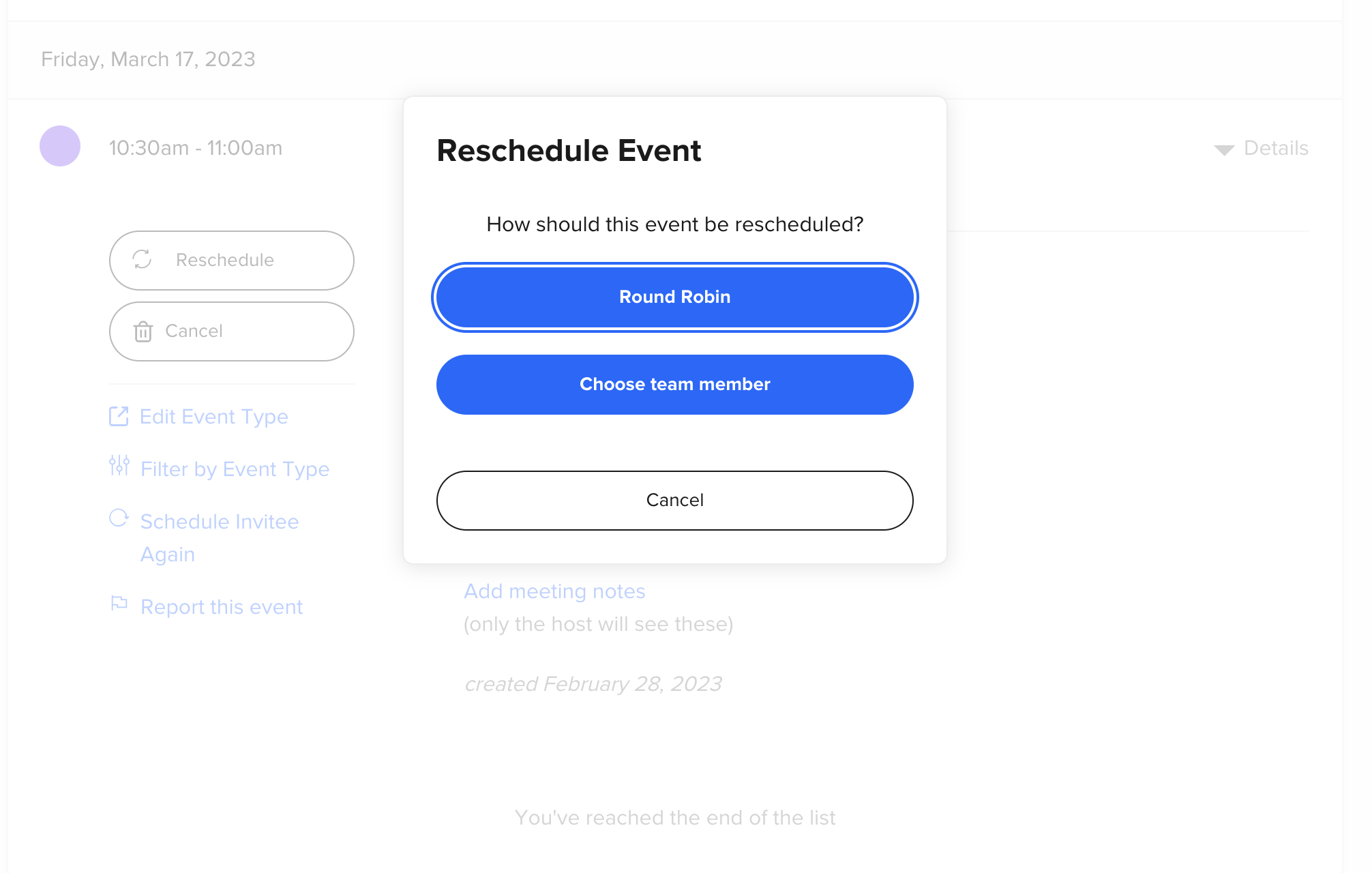 The originally assigned team member, the new team member and the invitee will all be notified of the updated event details once you confirm the rescheduled event. The time slot will also be freed up in Calendly for the originally assigned team member.