In this article, we will walk you through creating your first Calendly event type.
Set up steps
From the Calendly 

Home

 page, use the blue 

+ Create

button to select

 Event Type

.

Choose which type of event you are looking to host.

One-on-One: Good for coffee chats, 1:1 interviews, etc.
Group: Good for webinars, online classes, group training, etc. 
Collective: Good for panel interviews, group sales calls, etc.
Rond Robin: Good for distributing incoming sales leads to multiple team members.

Once you decide on an event, you will be brought to the New Event Type page.

Here you will set up:

The name of your event (Event Name).

Assign it a color.

Choose how long you would like your event to be (Duration).

And set up where you want to host this event (Location).


Select Continue.
(You can review the GIF below for quick step-by-step directions on steps #1 - #4.)



Next you will want to assign your Scheduling Settings. Here you will be able to set up the following items:
How many days in the future you would like to offer for scheduling (Date Range).
Create/Add assigned availability (Available Hours).
Set aside prep time before & after events (Buffer time).
Required amount of time/notice needed before an event (Minimum notice). 
Set how many of these specific meetings you want to have per day (Daily limit).
Assign your booking page time zone view (Time Zone and Display).
Set the frequency of available time slots (Start Time Increments).



Select Save and Close.
Step 2: Preview what your guests will see
Check out what time slots your guests will see when they book time for this event.
When creating your event, you will be able to see a booking page preview that automatically updates as you make changes.

Tip: This preview page is a direct reflection of what invitees will see when viewing your booking link to scheduling with you. However, if you would like to review both, you can do so at any time by clicking on the view live page in the upper right hand corner.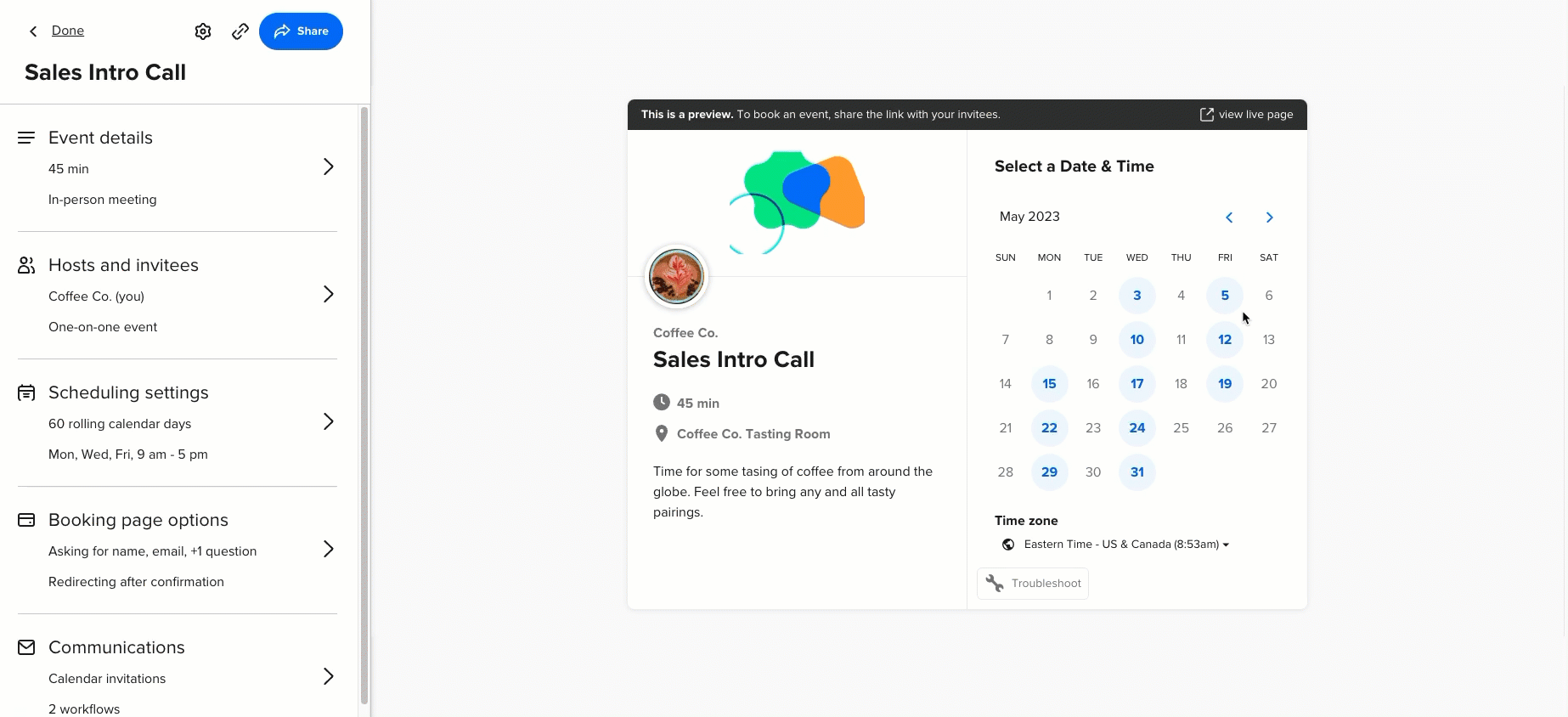 Step 3: Share your event
Now you can share your link so others can book events/meetings with you.
To share your scheduling link for a specific event where guests can choose times:
On

your dashboard select Share.

Select Copy link.
Paste the link into an email or text message. 


Send the link to another person.


Recommended Tip: send your link to yourself to see what others will see.

To send times in an email:
On your Calendly dashboard, select Share, then Add times to email.

From your calendar, select days and times to add to your email. Select Continue when finished.

You will see a visual of what will be pasted into your email. Select Copy times to clipboard.
Now you can paste these times into your email body.

What's next?
Now you're ready to meet with someone!
To take it to the next level:
Manage your events on the go with Calendly's mobile apps
Add Calendly to your browser for quick, anytime access
Explore our Help Center for more ways to use Calendly to make scheduling easier.
Have a question?  Use the Contact Us button at the top of the help center page, we're always here to help.