This article consists of step-by-step instructions for setting up domain control using Calendly. For more information on domain control and how it can help your organization, check out this article.
Where to enable
Domain control can be set up in the Login section of Calendly. 
Select the Admin Center menu from the left side of your screen.
Click on the Login tab. You will see a button for Domain control. Select this button to continue.
1. Enter your domain
Select whether you want to use a TXT or CNAME record for verification.

For subdomains (sales.customer.com rather than customer.com,) use the TXT method.

If your domain ends in top-level domains like .co or .uk,  you can use CNAME records.

Type your domain into the text box and select Add domain.

If your domain has

been verified

and saved by a different account, you will receive an error message.

Once added, your domain will appear in the Domain records menu with a Pending status.
2. Verify your domain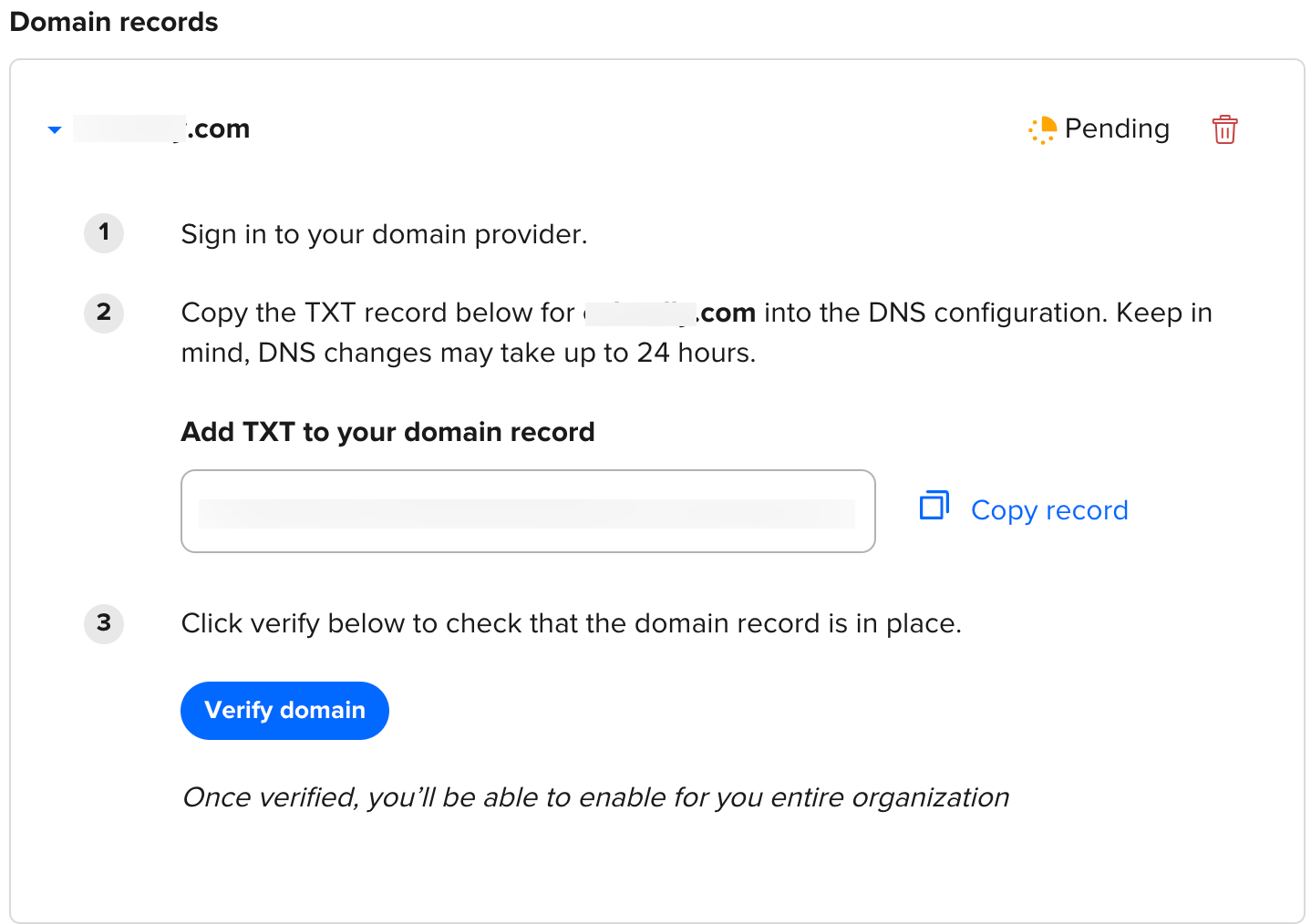 Sign in to your domain provider.

Your provider will have a location to enter DNS configuration information. Use the drop-down below for specific instructions for common providers.
3. Copy the record from Calendly and place it where needed.
4. In Calendly, select Verify domain. 
Once the domain has been verified, the status will change from Pending to Verified. This process can take up to 24 hours but in most cases the verification time is less than five minutes. If Calendly cannot verify your domain, you will see an Unable to verify status.
Note
If you want to remove a verified domain from your records, select the red trash can icon next to your domain record.
3. Choose your domain control settings

Once you create and a domain record, you will need to click Enable to turn on domain control. Enabling control will automatically set up a domain control setting: an organization owner getting an email for access requests. You can change this at any time by selecting one of the four options:
Send a request to join to a Calendly owner or admin

You would select from the list which admin or owner to use.

Send a request to join to a specific email address (such as it@companyname.com)

You would type the address into the text box

Redirect a user to a custom link (such as a ticketing system or an SSO)

You would type the link into the text box

Deny a user access entirely, locking the domain from use
Once you have decided which option to use, select it and then Save. This will turn on domain control for any new user attempting to sign up with the selected domain.
Note
If you wish, you can also enter your desired organization name in the text box. This will be the name that appears to a user when they attempt to sign up with your domain.