If you have a Facebook business page, you can integrate Calendly with the Meta pixel (formerly known as Facebook pixel) to better understand your social ad campaigns. With the pixel, you can track:
Visits to your Calendly booking page

Actions people take on your booking page


Routing form submissions

Conversions for your Calendly events

Conversions from your Facebook and Meta ad campaigns to Calendly events
Once you connect your pixel with Calendly, you can track visitors that originate from your Facebook page to your Calendly booking pages or any website where you've embedded Calendly.
Events fired from Calendly to the pixel
Once you've connected, Calendly will display the following invitee actions as events in Facebook:
| When an invitee… | This event will show in Facebook as… |
| --- | --- |
| visits your routing form | invitee_visits_routing_form |
| submits the routing form | invitee_submits_routing_form |
| visits your landing page | invitee_scheduling_page |
| visits your event scheduling page | invitee_event_type_page |
| selects a date | invitee_select_day |
| selects a time | invitee_select_time |
| books a meeting | invitee_meeting_scheduled |
In Facebook, the events will display like so: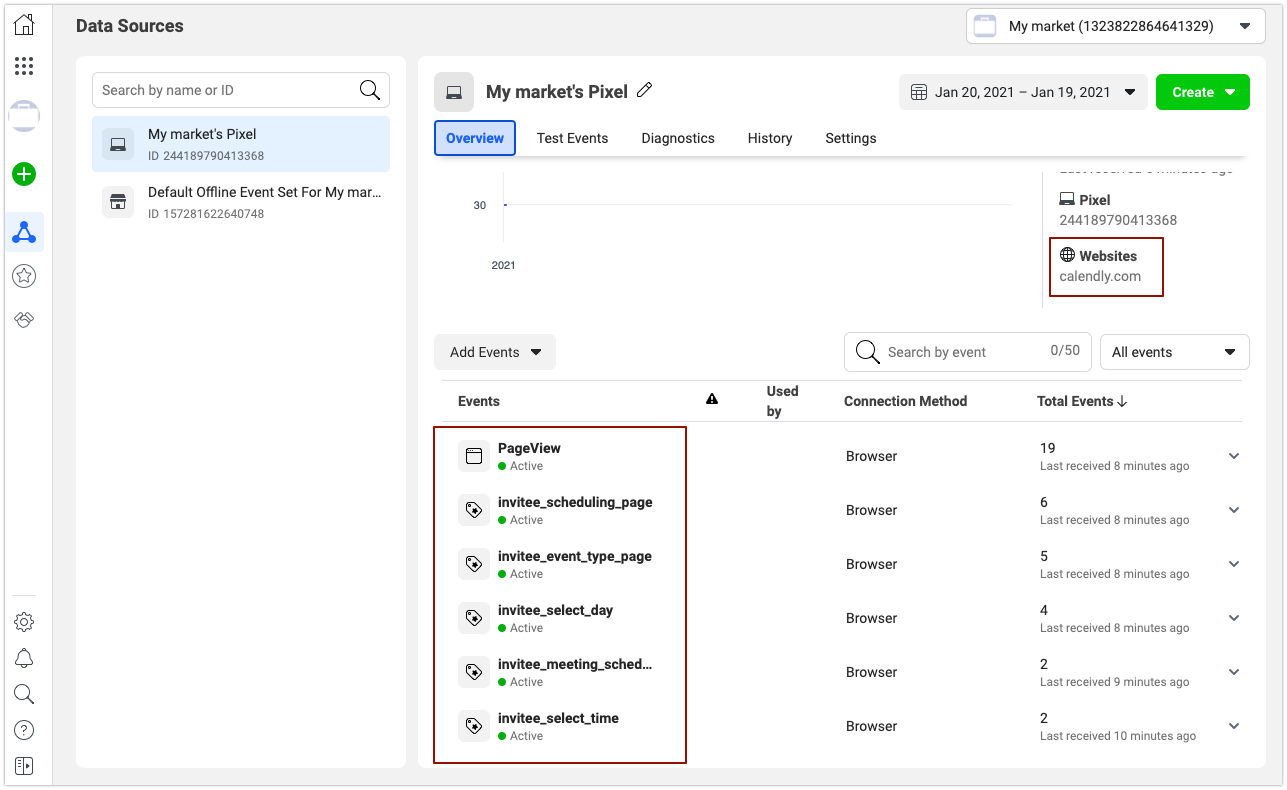 How to connect your pixel to Calendly
Before you begin
Make sure you have:
A Facebook Business page account

A Calendly Professional account with administrator privileges

Your personalized Meta Pixel ID
In Calendly, select Integrations, then Meta Pixel.
Select Go to Setup

.

At Meta Pixel ID, enter your Pixel ID, then select Connect.


In Facebook's Events

section, activate and send test traffic to your pixel to ensure it's working.
Note: It may take a few minutes for events to show in the Meta Event Manager, even after sending test traffic in the Test Events tab.


To confirm your pixel is working, you can also:

Add the Meta Pixel Helper extension to your Google Chrome browser (it's only available in Chrome). For more details, view About the Meta Pixel Helper.

Visit your Calendly landing page and event scheduling page. As you navigate the page, the Pixel Helper popup will show any errors.



Tips for troubleshooting the pixel
If you use Google Chrome, you can install the Meta Pixel Helper extension to troubleshoot your pixel and check for errors.

If your visitors use Firefox, the browser's default settings may block pixels. You may want to recommend that your visitors use another browser for best results.



How to disconnect the Meta pixel from Calendly
In Calendly, select Integrations, then Meta Pixel.
On the right, select Disconnect

.

Select Disconnect again to confirm.