IN THIS ARTICLE:
Connect your calendar
When you sign up for Calendly using your Office 365 or Outlook.com email address, your calendar will be automatically connected to your account. Visit your Calendar Connection page to confirm or customize your calendar settings.
If there are multiple calendars on your account, choose which you would like Calendly to check for conflicts by clicking Edit in the Check for conflicts section. You will be considered unavailable during any busy events added to these calendars, and the corresponding times will be removed from your scheduling page.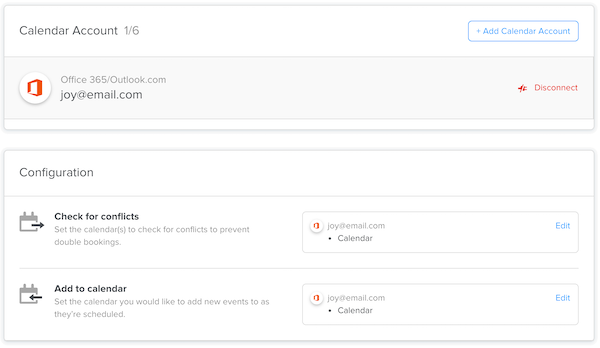 In the next section, select the calendar you would like your events added to. This is also where you can decide to Sync Cancellations. When enabled, any Calendly event you decline or delete from this calendar will be canceled within Calendly. If an invitee makes the same changes on their calendar, the status of the event will remain unaffected.

I'm available during Out of Office/Away events
Events in your calendar may be labeled Free, Busy, Tentative, Working Elsewhere or Away. By default, Calendly will consider you unavailable during events labeled Busy, Working Elsewhere or Away, and those times will be removed from your scheduling page. If you would like to be considered available during these events, visit your Calendar Connection page and click Edit in the Check for conflicts section to update this setting.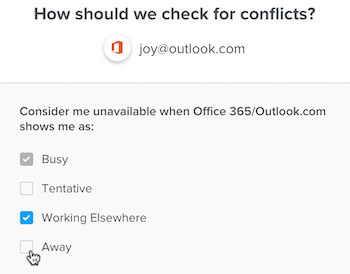 Admin restrictions
To successfully connect your calendar to Calendly, you'll need to have your organization admin grant permissions to allow third-party applications on your account. If you encounter an error during the setup process, ask them to visit their Admin Center and update the Integrated Apps settings.