Connect your calendar
Navigate to your Calendar Connection page from the drop-down menu on the top right corner of your page. You can connect your calendar account from any of our integrated platforms:
Google
Office 365 or Outlook.com
Outlook desktop for Windows PC
iCloud
Exchange
Once connected, take a look at the settings on your Calendar Connection page. If there are multiple calendars on your email account, use Edit to choose which you would like Calendly to check for conflicts. Any events labeled busy in the selected calendars will be read as conflicts, and those times will be removed from your scheduling page. You can also select which calendar you would like your Calendly events added to.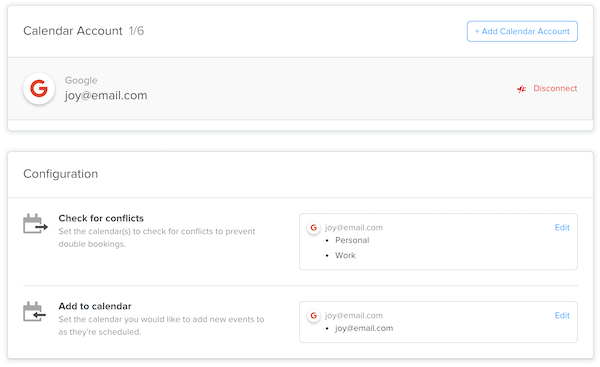 When an invitee chooses an available time to meet with you, the details will be published to your connected calendar and the Scheduled Events tab on your Home page automatically.
Configure event types
When you sign up, Calendly adds three default event types to your account. You can customize these depending on your scheduling needs. Visit the Event Types tab from your Home page and click the event to open and edit its availability settings.
You can also add new event types to your scheduling page. Solo users can select from one-on-one or group events, and team accounts can add round robin, collective or group events to their pages.
Note: once you create a one-to-one event type, you won't be able to convert it to a round robin or collective event (and vice versa).

One-on-one

An event between a user and one invitee

Group

An event between a user and more than one invitee

Round Robin

An event with one invitee that is distributed to any available
team member based on the rules you determine

Collective

An event between one invitee and the multiple
team members assigned to the event type
Update your profile (Account Settings)
At any time from the Account settings page, you can change your profile information such as:
name (that displays in Calendly and at the top of your scheduling pages)
language (which you can also set for each event type)
date format
time format
country, and
default time zone (which you can also set for each event type)


How to change your profile information
At the upper right side of any Calendly page, select Account, then Account Settings.

Change your name, message, language, date format, time format, country, or time zone as desired.

Click Save Changes.


What's next?
Once your availability and customizations are saved, you can share your link with invitees and start accepting meetings.