Admin-managed event types are in private beta.
What is an admin-managed event type?
Admin-managed event types are reusable event types that admins can edit, lock, update, and assign to users. They are designed to give you, the Calendly admin, ultimate control over your organization's scheduling experience.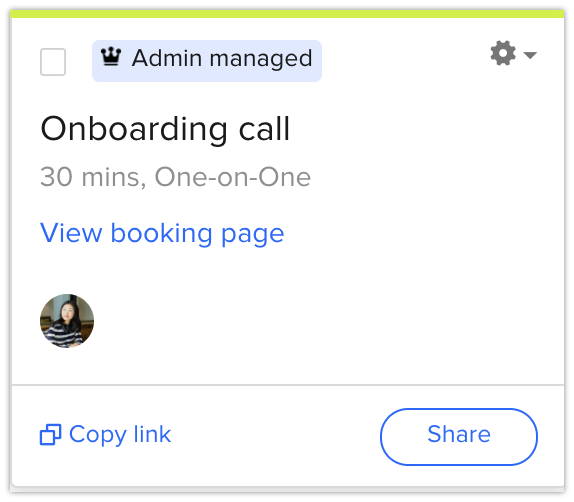 Benefits
Access and assign event types from one place
You can assign, unassign, edit, and delete event types from one centralized place.
Lock your event type settings
Users cannot change locked sections, so event types will be consistent.
Automatically push updates to assigned events
Changes will automatically push to event types that have already been assigned to users.
Onboard users faster, and prevent duplicate event setup
You can speed up onboarding by assigning an admin-managed event type to multiple users at once.
When to use an admin-managed event type
If you want the same event within your organization to adhere to specific standards or processes, then admin-managed event types are a good option.
Examples
Some events that are well suited as admin-managed event types include:
Demo call
Advising session
Candidate screening
With personal events
You can create admin-managed event types for personal event types (one-on-one and group).
At the moment, you cannot create admin-managed event types for team event types (collective or round robin), or assign them to group or team pages.

Admin-managed event types vs. templates
Calendly also offers templates, which you can assign to users as they join Calendly. However, you cannot lock or update templates once you assign them. Accordingly, we recommend that you get started with admin-managed event types, so you can have full control over your users' event types.
Read next
How admin-managed event types work
Tutorial: Create and assign your first admin-managed event type