What are managed events?
Managed events are reusable event types that admins can edit, lock, update, and assign to users to help standardize meetings. They are designed to give you, the Calendly admin, ultimate control over your organization's scheduling experience.

Benefits
Assign event types from one place

You can assign, unassign, edit, and delete event types from one centralized place.

Lock your event type settings

Users cannot change locked sections, so event types will be consistent.
Only available on the Teams and Enterprise plans.

Automatically push updates to assigned events

Changes will automatically push to event types that have already been assigned to users.

Onboard users faster, and prevent duplicate event setup

You can speed up onboarding by assigning a managed event to multiple users at once.
NOTE: To apply workflows to a managed event, account admins/owners must first assign that managed event to a user. Once a managed event is assigned to a user, workflows can then be applied at the user level.
When to use managed events
If you want an event to adhere to specific standards or processes for all members in your organization, then managed events are a good option.
Some events that are well suited as managed events include:
Demo calls
Advising sessions
Candidate screenings
How managed events work
Who can edit and assign managed events?
Account owners, admins, and group admins on the Professional, Teams, or Enterprise plan can edit and assign managed events. However, only owners or admins on Teams or Enterprise plans are able to lock and sync event information.
What sections can you lock?
When on the Teams and Enterprise plans, managed events have three lockable sections, shown below:

By locking a section, you'll also lock all the details belonging to that section:
What event is this?

event name
description
link
color

Invitee Questions

name field on the booking page (Name vs. First name and Last name)
ability to add guests
ability to autofill invitee data
custom invitee questions

Notifications and Cancellation Policy

notifications, like email and SMS reminders
cancellation policy
The Location does not lock, so users can edit this section and choose which location works best for them. The Notifications and Cancellation Policy section stays locked by default.
Note
As a best practice, we recommend leaving the Location section of the event empty, as this prevents syncing issues going forward. It also prompts the user to put in their preferred options, otherwise there will be no location available!
How to create and assign a managed event
To create a managed event
From the home page, select the  Admin Center.

Select the Managed events tab.

Select Create.

Choose Create for either a one-on-one or group event type. For more details on these event types, view An overview of event types.

Set up your event type to suit your needs. For more information on event type settings, check out this article.
If you already have a managed event that you want to duplicate for ease of editing, admins and group admins can select Duplicate from the managed event drop-down.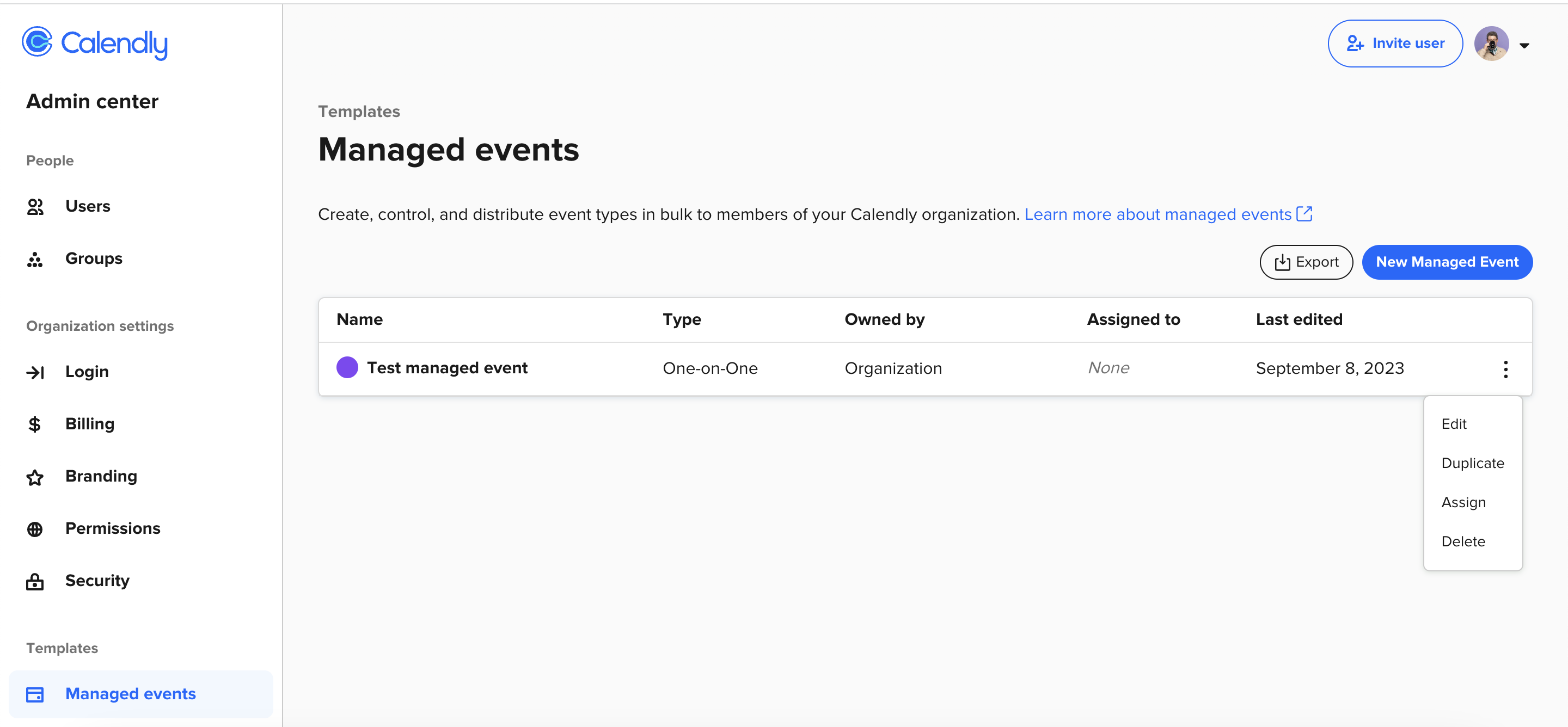 To assign a managed event
Once your event type is built, you can assign your event type to one or more users.
Select Assign to people, then select Assign.

Type in the name of the user(s) you'd like to add, then select Add. Note that you can add active or pending users.

From the Assign tab, you will see all the users that have this event assigned to them. You can choose to assign more users, or unassign any users. If you have groups created in Calendly, you will also be able to assign an event to groups, as well as view their group admin.
From the user's page, your user will see that their event type is admin-managed, and they will see certain sections are read only: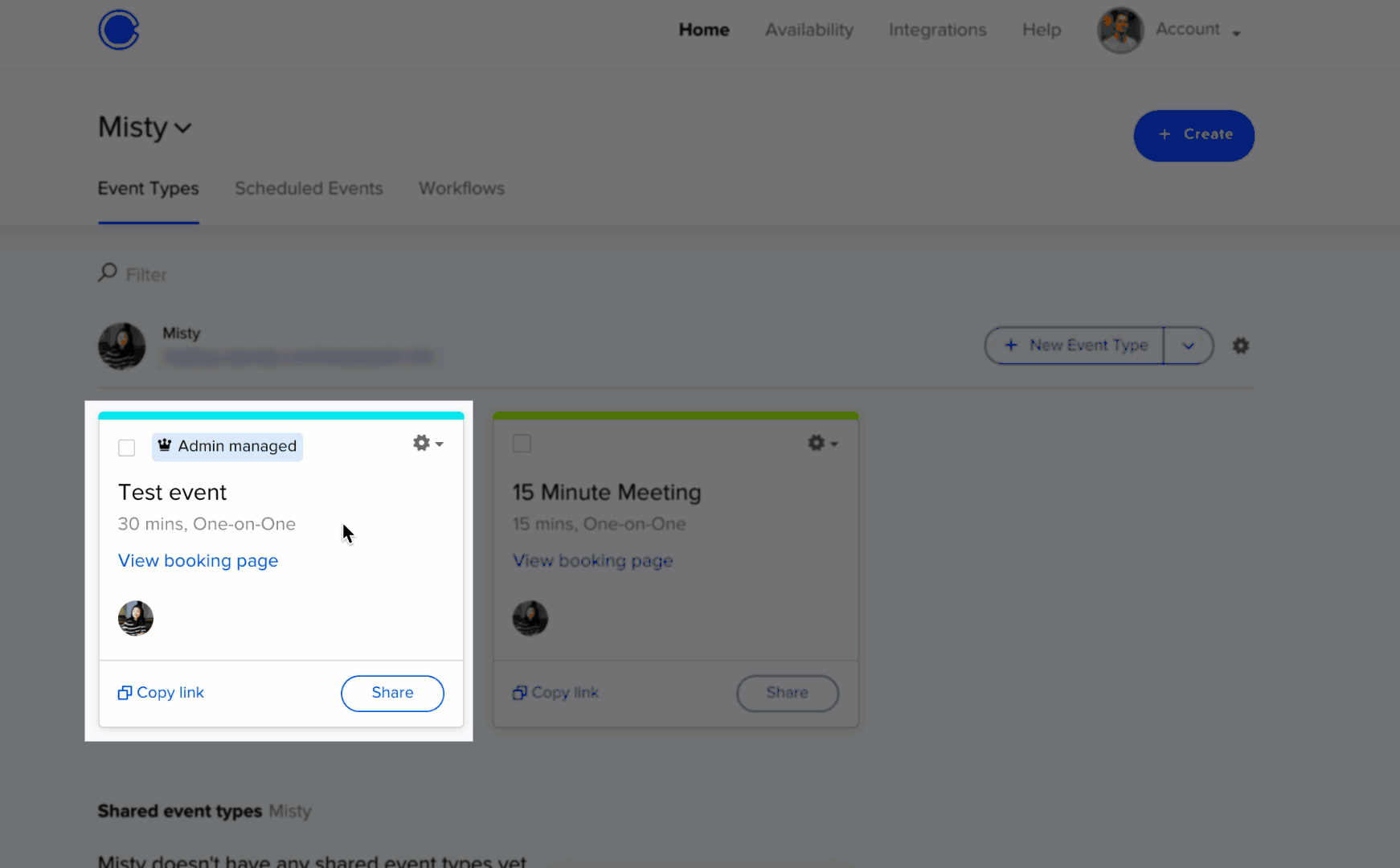 For some users, you may need to update your current templates functionality in order to leverage managed events. You can learn more about the update process here.
Troubleshooting 
If you lock and unlock sections
The lock functionality acts as both a lock and sync functionality; if something is not locked, any updates you make will not sync to the user.
If you don't lock a section, users will be able to edit it.
If you update a section that is not locked, the update will not push over to the user.
If a user modifies an unlocked section, and then you decide to lock and update a section, your updates will override the changes the user previously made.
If you want to see who last edited an event type (and when)
You can see when an assigned event type was last edited and by whom. You can navigate to the user's page, select the assigned admin-managed event type, and view the last edited information at the top of the page.
If a link is already in use
When the link of a managed event conflicts with the link of an event type that's in use, you'll receive this message: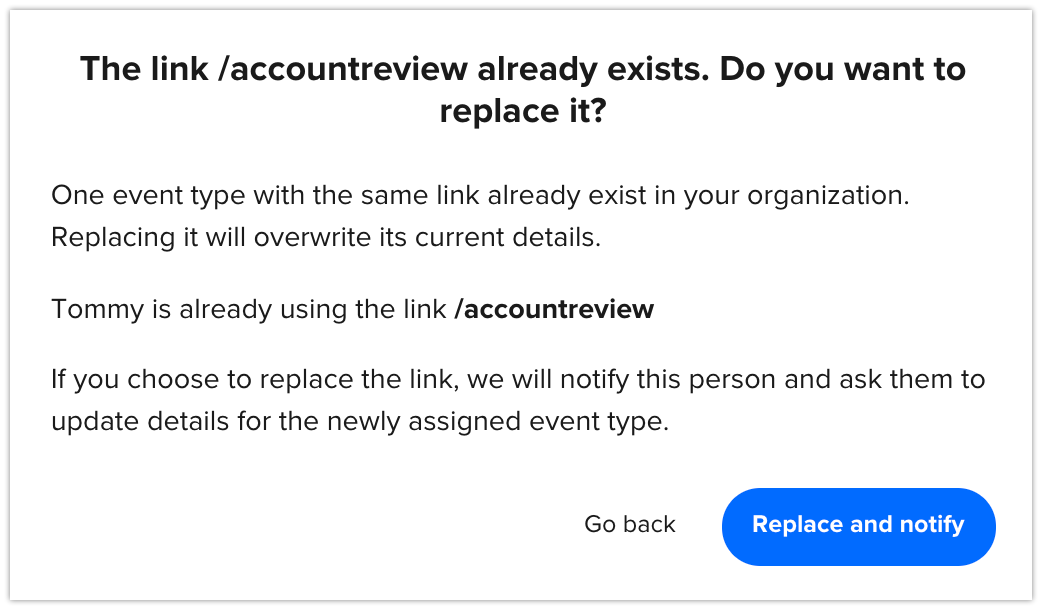 As an admin, you can choose to replace and notify, which will replace the link the user has set up for their existing event type. The user's event type will still exist, but their link will be appended with a 1, and will go from /url-name to /url-name-1.
If an event type is already assigned
If you try to assign a managed event to a user that already has it assigned to them, Calendly will automatically let you know it's already been assigned: