Save time by eliminating the back-and-forth of switching between apps to get things done with workflows. You may want to automatically send messages to invitees before or after scheduled Calendly events without the guesswork. Currently, you may be using multiple applications or manually copying and pasting event and invitee information between Calendly and another application to get these kind of tasks done. Not anymore with workflows.
Choose how the workflow starts
Just specify the conditions under which you want something to happen, and Calendly automatically performs them for one or more types of events. Choose to send an email or text to yourself, another host, or your invitees. Then choose to start the workflow when the event:
is scheduled
starts or ends
is rescheduled or canceled
If you choose a time-based action, you can also specify how many hours or days before or after the event that the workflow runs.
Customize your messages
Use a Calendly email or text template to create your message. Then choose from a collection of variables that Calendly replaces with actual information about your invitees and event.
Create as many workflows as you want
Calendly displays a list of workflows so you can easily see all your workflows
and know at a glance what they do for various types of events.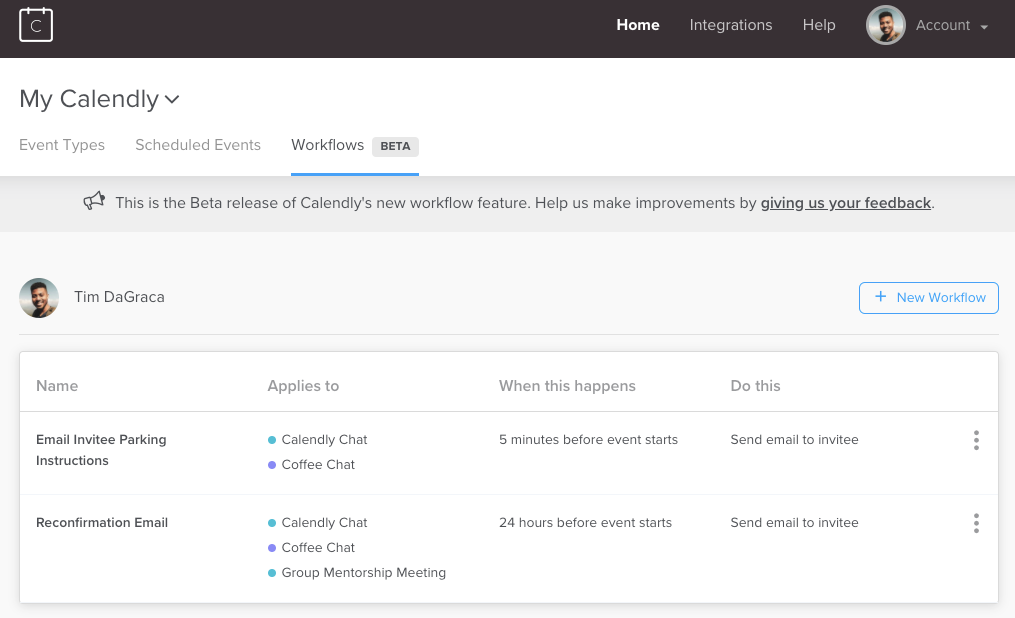 Try it out
How to create a new workflow
How to change an existing workflow
How to delete a workflow
Got questions and feedback?
Please send your questions and feedback to workflows@calendly.com