Scheduling on the go is more accessible with Calendly's mobile app for iOS and Android.
get easy access to your scheduling links,
set up ad hoc meetings,
view your event settings
(you can edit them on the Calendly website),
see upcoming events, and
receive messages and notifications about scheduled events (iOS only).
Just visit the Apple App Store and Google app store download the Calendly app. Once installed, open the app to sign in to your Calendly account and start sharing your links.
Get a quick start with ad hoc meetings (iOS only)
Ever need to just connect the fastest way possible? With Calendly ad hoc meetings for mobile, you can see your schedule, select the times you're available, then email or text those times to your invitee. You can offer your guests up to 20 time slots over a 5 day period.
Note: we check your availability on all calendars you connect with Calendly, however, we don't connect with the iPhone (iOS) default calendar.
SEE THESE PROCEDURES
To share the link to your Calendly sche
duling page
On the home screen, see your event types.
To copy the event link to your clipboard and paste it into a text, email, or other document, tap .
To share the link using Apple's iMessage, mail, or other apps, tap .
To share a link that can be used just once, tap Make this a single-use link.
Choose the method you want to use to share the link (email, text, copy or more options).
To create and share an ad hoc meeting (iOS only)
At the bottom of the Calendly mobile app, tap

Ad hoc Meeting

.

Select the first date you want to offer. Swipe to select dates.

If you want the duration to be something other than 30 minutes, tap

30 Min,

select another duration, then tap

Done

.

(Optional) At

Add Location

enter the location or copy and paste a link to an online meeting, then tap

Done

.

Select the time you want the meeting to start.




Tip: to move the selected meeting to another time on the same day, select and drag the highlighted meeting to another time.

To add additional meeting times, select additional dates and times.

To share a link to a scheduling page on the web where your invitees can choose one of your available time slots, tap Share. Select:
- Email

or

Text, and Calendly opens your email or text app and adds the link to it. You can customize the message associated with the link.
- Copy link, and Calendly adds the link to your clipboard so you can paste it anywhere you want.
- More options

, and Calendly allows you to choose which app you configured for your phone (see example below).
To view event type settings
On the home screen, tap the event type you want to view or change.

Scroll to see settings including location information, custom questions, or any payment integrations you've connected.

To change a setting click

Edit Event Type and make the desired change.
To see or change your scheduled events
On the home screen, tap Scheduled Events.

Scroll down to see a list of all of your upcoming meetings.

To view a different month, tap the down arrow select the desired month.

Tap any past event to open the event and view its details.

To view invitee details, answers to custom questions, or join the web conferencing link where the event is taking place....

Tap Reschedule Event to reschedule the event.
Tap Cancel Event to cancel it and send your invitee an optional cancellation message.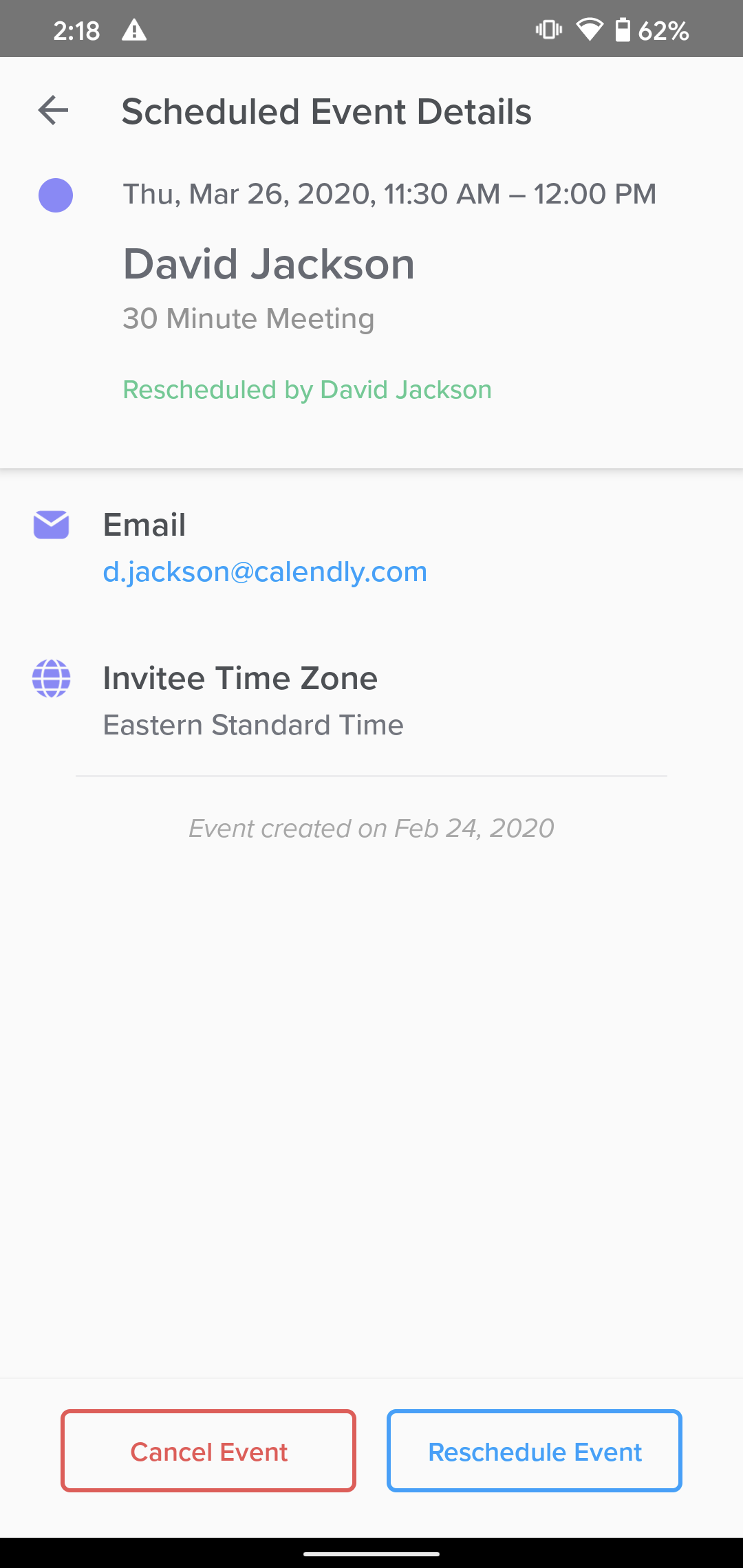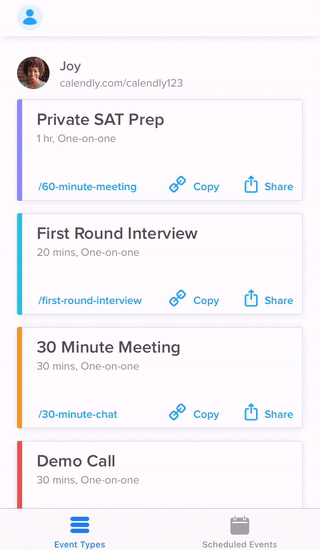 To get event messages and notifications
On the home screen, tap the menu at the upper left side of your screen.
Tap Notifications.
To receive messages about events, turn on Push Notifications.
To receive notifications about new, rescheduled or canceled events, at Event Notifications turn them on.