Scheduling on the go is more accessible with Calendly's mobile app for iOS. Have easy access to your scheduling links, view and edit your event types' settings and monitor upcoming events, all from your mobile phone. Just visit the
Apple App Store
and download the Calendly app. Once installed, open the app to sign in to your Calendly account and start sharing your links.

From the Event Types tab, view a list of your personal event types and any team event types you've been assigned to. Use the hyperlink to preview your availability or seamlessly book on behalf of your invitee.
| | |
| --- | --- |
| | Copy the event type link to your clipboard and paste it anywhere you need. |
| | Share the link for this event type in iMessage, your Mail app and more. Generate a single-use link by tapping the checkbox at the top of the pop-up menu. An automated message is attached to save you effort and add a personal touch for your invitees. |

Click through to see the settings for each event type, including location information, custom questions or any payment integrations you've connected. You can edit these and more by clicking
Edit Event Type
 at the bottom of the details list.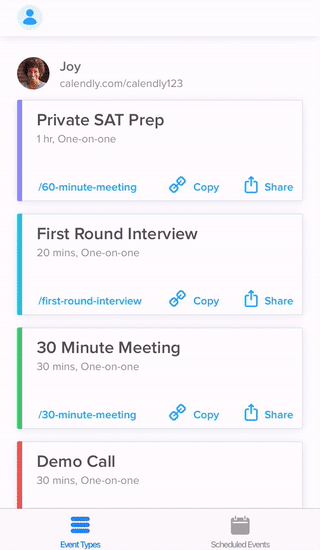 From the Event Types tab, swipe left to see your Scheduled Events. Scroll down to see a list of all of your upcoming meetings. Tap one to view invitee details, answers to custom questions, or join the web conferencing link where the event is taking place. Here, you can choose to reschedule the event or cancel it and send your invitee an optional cancellation message.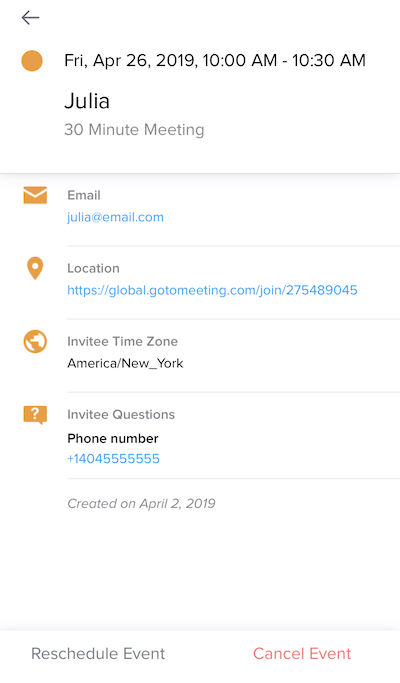 View all past events by returning to the Scheduled Events tab and scrolling up. Use the month selector by expanding the drop-down at the top and swiping left and right until you reach your desired month. Tap any past event to open the event and view its details.