Connect your calendar upon sign up
When you sign up for Calendly using your Google email address, your calendar will automatically be connected to your account. Visit your Calendar Sync page to confirm or customize your calendar settings.
How to connect your Google calendar
From your Calendly account, select the Account menu in the top right-hand corner, then select Availability from the dropdown menu. Connected Calendars will be an available tab.

Step 2: Select the calendar you'd like to connect
If you haven't connected a calendar yet:

Next to Google Calendar, select Connect.




If you've already connected a calendar:

You can add additional calendar accounts by selecting +Add Calendar Account.

You'll be prompted to sign in to your Google account. Once authenticated, you'll be redirected back to the Calendar Connections page.
Step 3: Edit your calendar(s)
If there are multiple calendars on your Google account, choose which you would like Calendly to check for conflicts by selecting Edit in the Check for conflicts section.




You will be considered unavailable during any "busy" events added to these calendars, and the corresponding times will be removed from your scheduling page.



In the Add to calendar section, select the calendar you would like your events added to. This is also where you can decide to Sync Cancellations. When enabled, any Calendly event you decline or delete from this calendar will be canceled within Calendly. If an invitee makes the same changes on their calendar, the status of the event will remain unaffected.



Checking multiple Google calendars
Calendly can read your availability based on one or more calendars. To connect existing calendars, you'll need to share them using the settings within Google.
Open your calendar on a computer and find the My calendars section in the sidebar. Hover over the calendar you would like to share, and open the options drop-down to find Settings and sharing. Once the page opens, locate the Share with specific people section and add the email address of the receiving calendar account. Be sure to update the permissions selection to Make changes and manage sharing.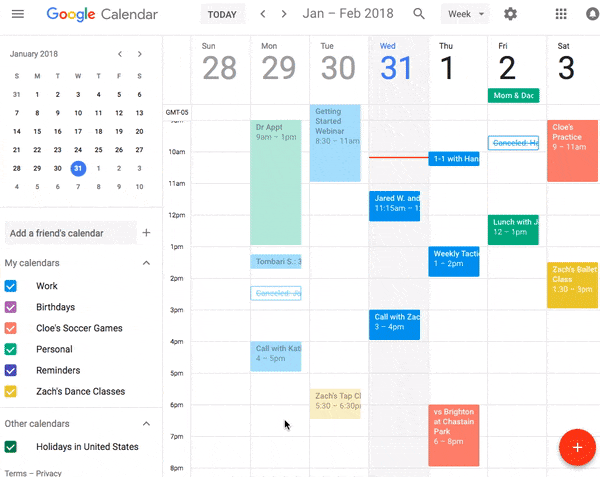 If you prefer, you can create new calendars for different categories of events. Read more about sharing calendars on Google's help center. Once your calendars are shared, return to your Calendar Connection page and check off all that apply so Calendly can accurately read your availability.
Disable automatic video calls
By default, Google will automatically add video call links to all calendar events. In your calendar settings within Google, locate the Event settings section to disable this feature. You may need to reach out to your administrator if you do not manage your account. Find out more on Google's help center