Save time and reduce no-shows by collecting payments from invitees when they schedule a time to meet with you. Connect your PayPal account to Calendly and choose which events will accept payments. A Business PayPal account is required to accept payments.
How to connect PayPal with Calendly
Log into Calendly and visit your Integrations page.
Select the option for PayPal and connect your account.

If you do not have a PayPal account, you will be prompted to create one.


Collect payments from your event types
Once PayPal is connected to your Calendly account, you can add payments to new or existing event types from your Event Types page.
Select the event type you would like to edit.
Expand the Booking page options section to enable set up the Collect payment on form setting.

Specify the amount and currency to be collected when an event is scheduled. Customize your payment terms with any information an invitee may need before confirming their payment.
Add your cancellation policy or specify additional fees to come later.
At any point, you can change any paid event type back to free by choosing the Do not collect payments for this event setting within the Booking page options section.
After booking
After someone has booked via your connected event type and completed a transaction via PayPal, the specific transaction link can be viewed directly from the Scheduled Events page by viewing the event's details.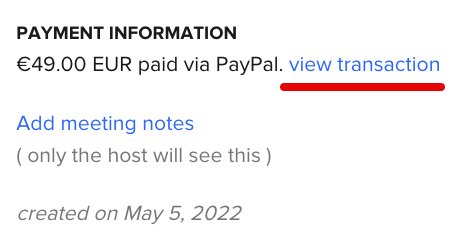 Disconnecting Paypal from Calendly
To disconnect PayPal from your Calendly account completely, visit your Integrations page, select the option for PayPal and click Disconnect. Any event types accepting payments at that time will become free once PayPal is disconnected.
Common questions
What event types can collect payments?
All event types can be set up to collect payments. While your personal event types (one-on-one and group) will be connected to your PayPal account, team event types (round robin and collective) will be connected to the Calendly owner's PayPal account.
What payment methods does PayPal accept?

PayPal accepts the following payment methods
Your bank account
Your Visa, MasterCard, Discover or American Express card
Your balance if you have a PayPal Balance account.
For more details, please visit PayPal's help center article.
What currency can I collect payments in?

$ AUD - Australian Dollar
$ CAD - Canadian Dollar
€ EUR - Euro
£ GBP - Pound Sterling
$ USD - United States Dollar
Can I offer discount codes?
We do not currently offer a coupon or discount code option with our PayPal integration.

If working with a one-on-one event, you could clone your event type, then require different payment amounts for each. Just visit your Event Types page and select Clone from the gear menu of the event you'd like to copy.

For example, you can require $50 for the event type that is public, and only $40 (or even no payment collection at all) for a secret event. Share the secret event link directly with any invitee who should receive the discounted price, as this event will not appear on your landing page for others to choose from!
Does Calendly's PayPal integration collect sales tax?
No, our payment integrations do not collect VAT/Sales tax. You can include this in the cost and amend their amount to be collected in the event type.
Does Calendly process refunds?
No, refunds must be processed manually by the account holder. Calendly support will direct invitees to contact you regarding any payments they submit through your scheduling page.
PayPal Integration is not working. What do I do?
Having trouble completing the integration? We have seen several users find success by selecting United States as their country on this step: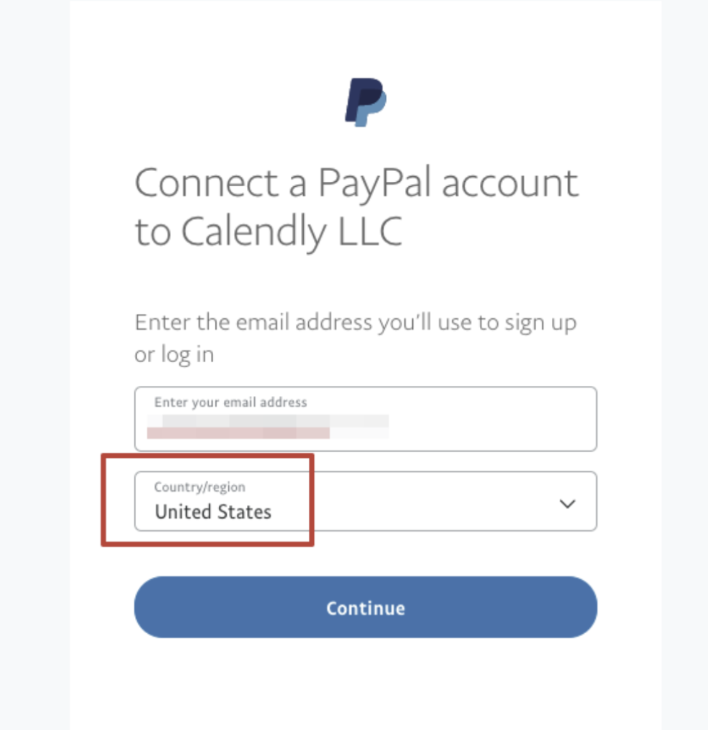 Once you've selected United States as your country, if you still can't complete the integration, please reach out to the support team here.

Note: Selecting United States on this step will not affect any of your PayPal Business account settings.