Calendly's Chrome extension makes impromptu scheduling fit seamlessly into your standard workflow. From your browser's toolbar, you can access your scheduling links or create an invitation with customized time slots for your invitee to choose from.


IN THIS ARTICLE:
Install the extension
Install the extension from the Chrome web store, or by visiting your integrations page and choosing the Calendly for Chrome option. Once installed, you'll be able to open the extension on any webpage by clicking the Calendly icon in your browser's toolbar. It will also appear when you're drafting a message within Gmail.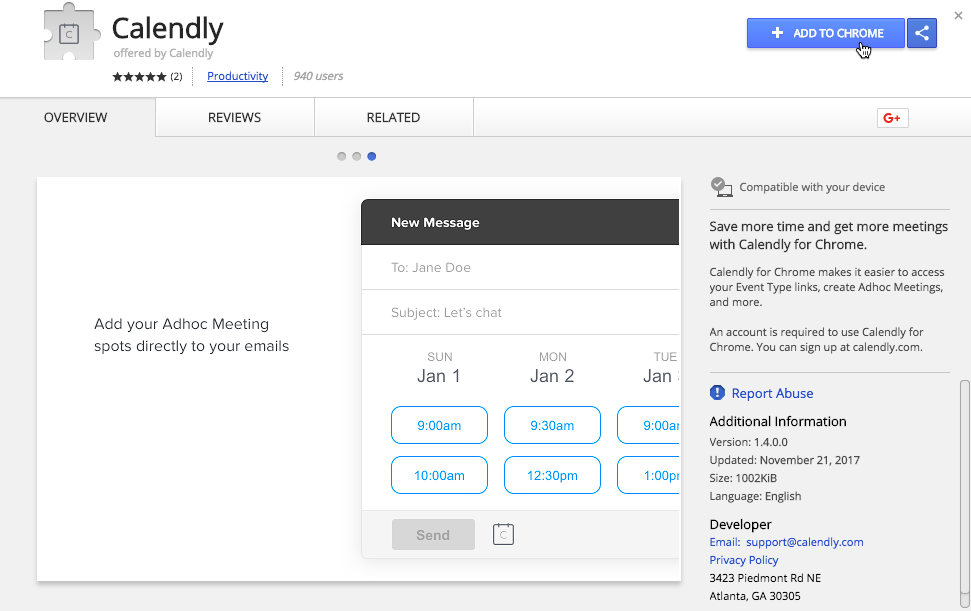 Using the extension
When you're ready to share a link, expand the extension sidebar to show a complete list of your event types. Copy the URL for your personal or event specific scheduling page by clicking the corresponding hyperlink icon.
For quicker access to your most frequently used event types, hover over the details to reveal a star icon. Once selected, that event will appear under the Starred tab for easier sharing. Hovering over an event type's details will also reveal the option to add an internal note. These will never be visible to invitees, and can only be seen by you or your team.




Adhoc meetings
You can create a unique event invitation for that special prospect, candidate or customer. It can only be booked once, giving you the opportunity to provide more flexibility to your most valuable invitees.
Open the Calendly for Chrome extension and select New Adhoc Meeting. Specify the duration and location of the event, then select the time slots you would like to offer. From here, create a link to share with your invitees or add the invitation to an email.
Enable High Priority mode to ignore busy times on your calendar. Overlapping times can be selected if the events were scheduled outside of Calendly.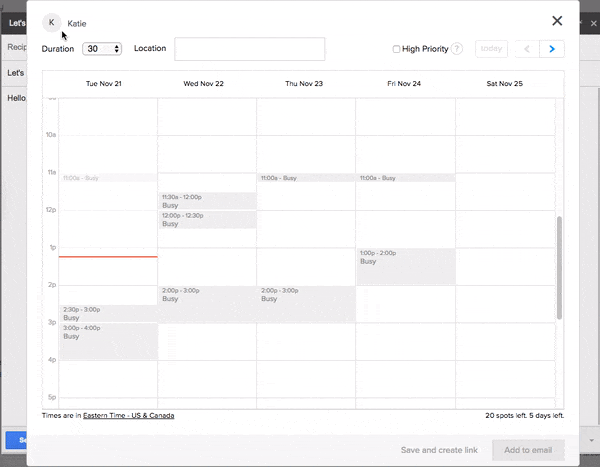 Manage pending adhoc invitations
Manage your pending adhoc invitations within the extension sidebar. Access this page at any time from the drop-down menu next to your icon. View the invitations you have sent, or cancel them before your invitee has booked.